Ask Debbie
September 4th, 2013
Go with the Flow; improve air flow with the Agrifan ceiling fan system.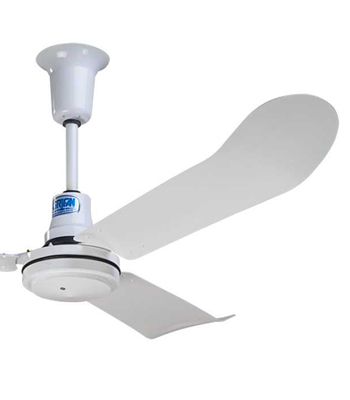 ho·mog·e·nize
v. ho·mog·e·nized, ho·mog·e·niz·ing, ho·mog·e·niz·es
v.tr.
1.a. To reduce to particles and disperse throughout .
   b. To make uniform in consistency, especially to render (milk) uniform by emulsifying the fat content.
When we think of the word homogenize, we almost always think of milk. For as long as most of us can remember, dairy operations have been homogenizing milk to prevent the cream (or fat) layer from separating and sitting on top. The process was invented in the early 1900's and these days, unless we're shopping at a health food store, homogenized milk is all we'll find in the grocery cooler.
But homogenizing isn't just for milk. We might not think of air as something we need to homogenize, but if we're planning a ventilation system in our horse barn or upgrading our existing system, we'd do well to give the topic careful consideration. Throughout all of our research, we've learned that the only way to properly ventilate a barn is to draw fresh air in, circulate it throughout the building and then push or allow the stale air to escape through open soffits, windows, or roof vents. In other words, we've got to mix the air, not just push it through.
The average horse barn is shaped like a rectangular box with several walled compartments. It's those compartments…or stalls…that present a significant challenge when it comes to ventilation. Dead-end cubicles like those at the backs of stalls, especially at floor level, get short-changed by the intake-exhaust system. And because ammonia particulates, endotoxins, dust and mold get stuck at floor level, that's a real problem. After all, our horses tend to spend a lot of time with their noses on the ground.
Those toxins can wreak havoc on our horse's respiratory system. In fact, a 2001 study showed that 80% of stalled horses showed some inflammation of both the upper and lower airways. Conditions improved tremendously when horses were turned out to pasture, but even horses that were only stalled for part of the day showed some inflammation. That inflammation leads to chronic respiratory diseases like RAO (recurrent airway obstruction) or heaves, a condition similar to asthma in humans.
Worse yet, horses aren't the only ones at risk. If the air is bad for horses, it's bad for us as well. Agricultural workers (yup—that's us) are far more prone to suffering from respiratory disease than those who do not work in barns.
So, what can we do about it? The solution is fairly simple and it doesn't involve tearing down any barn walls. In fact, the best thing we can do for our horses is to simply create an indoor environment that closely mimics the pasture environment. In other words, keep the air moving, but do so gently without blasting dust and toxins into the air.
Ceiling fans or circulating fans do just that by moving the air vertically. Unlike intake-exhaust fans that can only pull air in from one end of the barn and push it out the other, ceiling fans circulate air throughout the barn even in those dead-end cubicles like the backs of stalls. And unlike intake-exhaust fans, ceiling fans run quiet, preserving the tranquility of the barn environment.
Of course, not all ceiling fan systems are made alike. In fact, in the course of our research we found several products that get a lot of press space, but aren't cut out for the challenges found in the barn environment—dust, moisture, extreme heat and extreme cold.
Enter RAMM's Agrifan ceiling fan system. Agrifan is built tough to meet those challenges head on. Best yet—-it costs less to run than a 100-watt light bulb. We love how it mimics the pasture environment—providing the gentle breeze our horses need without blasting air or creating a draft. And provided your barn is naturally ventilated—windows, open soffits, and perhaps a sidewall vent—the Agrifan ceiling systems circulate the air that is drawn in naturally. Air enters through windows or eaves and is circulated throughout by the Agrifan system, even in those hard to reach spaces like the back corners of stalls.
The Agrifan creates an ambient temperature throughout the barn, provides gentle convection cooling for your horses, provides superior ventilation, and practically eliminates condensation on walls and ceilings. All that in an aesthetically pleasing look! The Agrifan is an attractive addition to any barn.
A superior product.  Let's take a look at why Agrifan surpasses every other fan system on the market today:
v  It's built tough. All metal parts. No plastic to degrade or crack. Corrosion-resistant aluminum blades for less stress on the motor.
v  Corrosion resistant epoxy finish coats on all metal housing and blades.
v  Totally enclosed .7amp heavy duty motor with resistant-protection.
v  Neoprene sealed motor case to repel water and dust.
v  Permanent, sealed, heat-resistant ball bearings.
v  60" aerodynamically designed blades for maximum air circulation.
v  Agrifan's superior blade design and heavy-duty motor moves and mixes air up to 330rpm (revolutions per minute) and 43,500 CFM (cubic feet per minute). It's one of the most powerful fans on the market, yet unlike intake-exhaust fans, the Agrifan runs quietly and efficiently.
v  Energy efficiency; even on maximum speed, the Agrifan runs on less energy than a 100-watt light bulb, saving you hundreds of dollars per year in energy costs.
v  Agrifan can increase the efficiency of your current heating and cooling system by 30% in just one year.
v  Optional switches provide infinite speed control and direction.
v  Virtually eliminates corrosive and toxic condensation on walls and ceilings.
v  Provides convection cooling as well as ventilation, ensuring your horses not only enjoy clean air, but also stay warm in winter and cool in summer.
v  Tested by farmers in the industry for more than 25 years and comes with a 3-year manufacturer's warranty.
Of course, you don't have to take our word for it. Here are a few quotes from a few of our satisfied customers:
~~~~~~~~~~~~~~~~~~~~~~~~~~~
"We purchased four of the down-blowing fans 2 months ago and wow….what a difference it has made in our barn. These fans have provided our barns with at least 4 times the amount of air ventilation. My only regret is that I had not found a product like this sooner."
~~~~~~~~~~~~~~~~~~~~~~~~~~~~
"Last spring we replaced all of our fans in our current barn with the Agrifan and it was probably one of the best investments we've made to our farm. Not only did it cut down on the electric bill, but they are much more effective than what we'd originally installed. My husband, who is not too quick to jump on farm purchases, also purchased these for his work barn. Great product and investment."
~~~~~~~~~~~~~~~~~~~~~~~~~~~~~
You can count on RAMM to do the research for you, but we encourage you to compare Agrifan to other products on the market. We think you'll find that the Agrifan outperforms in every way—efficiency, fire-safety, corrosion-resistance, performance, and all while providing a quiet tranquil environment your horses will thrive in. Call us at 1-800-434-8456 or visit us at www.rammfence.com. Be sure to like us on Facebook to keep up to date on all the RAMM news!
Share and Enjoy
September 4th, 2013
Do you love horses as much as I do? I have been 'horse crazy' ever since I was old enough to hop on a rocking horse and tell my parents that, "I want one!"  And even though I have been riding for years, I found that I still have many questions when it comes to riding. How about you?
You may be a relatively new rider, or perhaps you cannot ride often to stay consistent with your horse.  Still yet, you could be like me; riding for years and did not know that you have 'fallen' into some bad habits. I'm finding out I still have more room to develop a better seat, hands and legs.
Not long after my family moved back home, we settled our horses in a temporary barn until we could build one. Wanting to ride more than our Ohio weather allowed, I boarded 2 of my horses at a near by barn with an indoor. Watchful eyes were suddenly on me and it did not take long for resident instructors to critique me (for them it was like that overwhelming itch that just has to be scratched!).  I suddenly realized 'pressure' had a new meaning. First, I needed to change some old instilled habits – quiet my hands and lighten the pressure of my busy legs.  Secondly, the meaning of pressure now meant that all eyes were on my horse and I. Yikes!  I needed to tweak my riding and allow my horse to move freely.
A bit of fear came over me, "I thought I knew what I was doing," yet I didn't know after years of riding…That instantly had me second-guessing almost every move I made. ~ Change one thing and something else needed correcting, it almost felt like I was starting to ride all over again. Lots of questioning, rolling around in my mind about small adjustments soon led me to realize that I needed to stop being hard on myself. I had to celebrate the new things I was learning and implementing with my much happier horse. That brought me to new confidence knowing improvement is sometimes not always easy to come by, but reaps many benefits. We can improve greatly if we do not become 'closed minded'.  And as humbling as it was to realize that I needed to tweak my riding, the results were doubly wonderful!
I also have realized that I did not completely understand all the 'terms' used during a lesson. Even some of the most elementary critiquing can sometimes need to be dissected.  A good teacher will explain until you understand the mechanics of the action you need to do with your horse.  I have learned that it's important to have each instructor explain 'his or her' meaning of a cue to you. One small difference in your action can make all the difference in the world with your horse. For example:  I have heard the word 'soft' used by instructors which can mean to relax your hands, use less contact, move shoulders down or take your direct focus down to a 'soft eye' (meaning you look at everything rather than concentrate on one object).  There is a place for each meaning of 'soft'.  However, if you do not understand which meaning (and how much or little to soften), you cannot apply the right cue properly. If horse can feel flies land – they definitely will feel your extremely small moves.
The basics, even though they are elementary, are the foundation for riding. If I cannot do what I need to at the walk, I cannot move onto the trot and expect a wonderful ride ~let alone move into a canter and expect my horse to carry me balanced and freely.
Honestly, even the best of riders can improve. For me and maybe for you to, you have become a little complacent with just riding and fell into some bad habits. Find a good rider or a trainer to watch you from the ground and get some good advice on how you're riding. Don't be embarrassed to ask questions or have them explain anything that you don't completely understand. And I need to add – if the mechanics of what they are telling you cannot be explained so that you understand it, you may need to search for a trainer that can.
As the owner of RAMM Horse Stalls and Fencing, I need to explain every detail to horse owners about safer alternatives for their horses.  As horse owners we expect only the best when it comes to products for our horses. Give yourself that same gift. Be humble, ask questions, get good advice and ride the best that you can!
Share and Enjoy
May 22nd, 2013
Share and Enjoy
April 22nd, 2013
By : Karen Elizabeth Baril
Pro-Tek Electric Tape Fence—not your average electric fence
Take heart everyone! Spring is in the air. The bluebirds are back at the nesting boxes and the snowdrops and crocus are popping their tiny faces through the snow. Of course, as horse owners, we mark the coming of spring in non-traditional ways—like when we realize our jackets are covered in horse hair and the horses are, well—shall we say—a little fractious.
Speaking of fractious horses, spring is a good time to do a little fence maintenance or install new fencing. If you're considering electric fencing, either as a stand-alone fence or as an effective way to reinforce solid fences, be sure to check out our Pro-Tek Electric Tape Fencing. Like all of our products here at RAMM, Pro-Tek Electric Fencing has been thoroughly field-tested. By our latest estimates, Pro-Tek has fenced in over 1,000,000 horses over the last 20 years. That's a lot of happy customers. Why is it so popular?
If you think about it, quality electric fencing should be safe, durable, easy to install, and offer the same conductivity ten years from now as it does on the day you install it. Sounds simple, right? We thought so, too—but several years ago, we invested a lot of time and money into an electric fence system that lost its charge in just a few seasons. We did all the right things—installed the fence according to directions, kept the perimeter free of debris, and even bought a bigger and better charger, but all to no avail. Nothing would bring that charge back.
That's when we did a little research and discovered a good reason for our fence 'failure'.
Most electric fence manufacturers use copper wire to conduct the electricity. While it's true that copper boasts superior conductivity, (over stainless steel) it oxidizes fast and because it's a fairly soft metal, it stretches. As it stretches, the diameter of the wire decreases, reducing its ability to conduct electricity. In fact, copper begins to lose its charge on the day you install it.
Pro-Tek Electric Tape Fencing is different—it's manufactured with stainless steel wire. Right out of the gate we knew we had a better product. Stainless steel wire does not lose conductivity so we'd have the same charge ten years from now as we have on the day we install it. Better yet, it's strong enough to keep our horses in, but still forgiving enough to avoid injury should a horse do the inevitable—test the fence.
Let's take a look at fence buying basics:
Electric horse fencing needs to:
Provide a physical barrier.
Provide a psychological barrier.
Be strong, but safe with appropriate break strength for horses. The question is not "if", but "when your horse will test the fence. With that in mind, you need a fence that is strong enough to be safe, but is still forgiving if he gets caught up in it.
Be easy to install and maintain.
Provide an attractive addition to the farm.
So we did the research and discovered many of the products sold in the local feed and supply stores aren't built to last for more than a few years at best. That's frustrating, but fortunately, we have a better choice.
Pro-Tek Electric Tape Fencing offers:
 15 strands of 12 mil stainless steel wire (the widest diameter steel wire on the market for the highest conductivity) and 33 strands of 20 mil UV stabilized polyethylene monofilament for durability and long-lasting beauty.
750 lb. break strength. That's strong, but forgiving. Pro-Tek offers superior strength, but is still forgiving of those inevitable horse mistakes. With unique hardware built to swivel and break before the tape, making repairs is fairly easy.
Physical and psychological barrier. We like to say that Pro-Tek treats a horse like horses treat each other. The bite of electric is easily understood by most horses; it's similar to a nip or bite from the alpha herd member. The 1.5" width provides the other half of the equation—the psychological barrier. Horses respect the Pro-Tek fence.
Durability. Ultra-violet (UV) protection against the sun's damaging rays and the use of stainless steel wire give Pro-Tek its superior longevity. We back it with a 20-year limited manufacturer's warranty on our 1.5" tape.
Ease of installation. We like to say that if you can use a hammer and nail, you can install our Pro-Tek Electric Tape fencing. Purchase in rolls of 330', 660', or 1320' rolls.
Traditional beauty. Pro-Tek offers an aesthetic beauty comparable to traditional wood or vinyl fencing. Your choice of colors include white, black, or brown.
Variable use. Use as stand-alone fencing or to reinforce wood or vinyl fencing.
Cost savings. Pro-Tek is a less expensive alternative to wood, vinyl, or mesh.
Let's face it, we're not ranchers—we're horse owners. Most of us have full time jobs away from the farm. We need products to work as well ten years from now as they do on the day we install them. With its combination of strength, effectiveness, beauty, and durability, Pro-Tek Electric Tape Fencing offers greater value to the horse owner. It's the smart choice. Best of all, it's made right here in America.
Check out Pro-Tek Electric Fence Tape on our website at www.rammfence.com and be sure to give us a call at 1-800-434-8456.
Debbie Disbrow and freelance writer Karen Baril (www.karenbaril.com" ) have teamed up to write this article. If you have any comments, questions or ideas, we welcome them. Email us debbie@rammfence.com.
Share and Enjoy