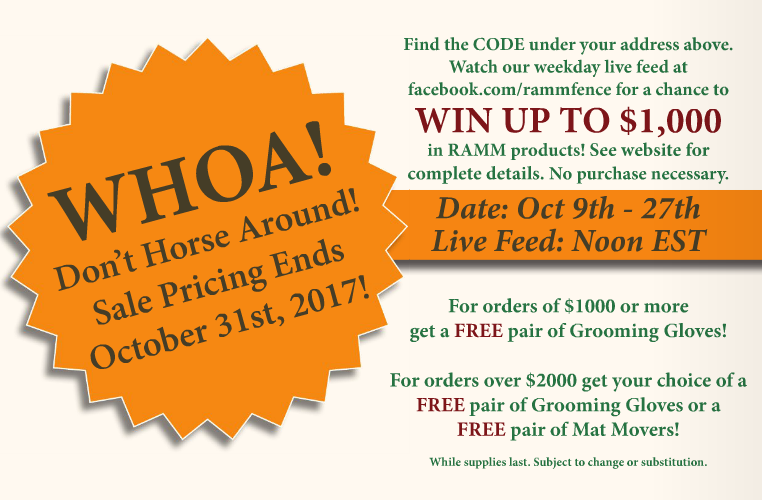 Visit us on Facebook here!
​
RAMM Horse Fencing & Stalls 2017 October Sale Sweepstakes
NO PURCHASE NECESSARY TO ENTER OR WIN. THIS CONTEST IS OPEN TO LEGAL U.S. RESIDENTS CURRENTLY RESIDING IN THE 48 CONTINENTAL UNITED STATES AND WASHINGTON, D.C., 18 YEARS OF AGE OR OLDER, EXCLUDING RHODE ISLAND. CONTEST PERIOD BEGINS ON 10/9/2017 AND ENDS ON 10/27/2017. VOID WHERE PROHIBITED BY LAW. SUBJECT TO ALL FEDERAL, STATE AND LOCAL LAWS, REGULATIONS AND ORDINANCES.
ELIGIBILITY: RAMM Horse Fencing & Stalls 2017 October Sale Sweepstakes ("Contest") is open and awards will only be granted to legal U.S. residents currently residing in the Continental United States and Washington, D.C., 18 years of age or older, excluding Rhode Island. Employees and directors of Ramm Fence Systems, Inc. or any of their parent companies, subsidiaries, affiliates, representatives, consultants, contractors, legal counsel, advertising, public relations, promotional, fulfillment and marketing agencies, Web site providers, Web masters, and members of their immediate families (spouses, parents, children, siblings and their spouses, regardless of where they live) and those living in the same household are not eligible to enter or win.
ENTRY: All recipients of the RAMM Fence 2017 October Sale Flyer are eligible to win. If you are not on our mailing list you may request your free entry by emailing your full name, mailing address, email address and daytime phone number to ramm@rammfence.com. Limit one entry per person. Limit one prize per family or household.
HOW WILL THE AWARDS BE SELECTED: Prize awards ("Awards") are determined by random drawing only and not on the method of contest entry, or, if applicable, on the basis of any Entry Codes. All Contest entries, in either of the manners set forth above, must be received by 11:59:59 PM ET on 10/26/2017 to be eligible. Limit one (1) award per household. One drawing will be made live on our Facebook page Monday through Friday from October 9, 2017 through October 27, 2017 at noon EDT. Award of prizes will be made upon verification that recipient has met all requirements under the rules and regulations as stated.
HOW TO CLAIM CONTEST AWARDS: If the sale flyer recipient sees their Customer ID (as printed on the sale flyer) announced live, they are eligible to claim the daily prize (subject to proof of eligibility under these Official Rules) Recipient must claim their prize and confirm and verify eligibility by 11/30/2017 (the end of the Award claim period). Winning Customer IDs will also be posted on our website www.rammfence.com. Should the winner not contact RAMM by 11/15/2017 to claim their prize, one attempt shall be made by RAMM in an attempt to notify the winner (via phone, email or US Mail at the discretion of RAMM Fence). An Award will be forfeited if the winner fails to respond to notification attempt by 11/30/2017. The notification contact information shall be that which is in the RAMM mailing list associated with that Customer ID. Daily prizes will be mailed to winners within 7 business days of confirmation of Award. For the (3) Friday awards of $1,000 in RAMM product (see stipulations below) the credit must be applied to an order by 12/31/2017 or Award shall be forfeited.
AWARDS REMAINING UNCLAIMED ON CLOSE OF BUSINESS 11/30/2017 WILL BE FORFEITED.
AWARDS/ODDS: Below are the Awards for each of the daily drawings and their Retail Value
October 9, 2017 – (1) Kick Away Boot Brush (Value $39.98) - WINNING # 20202
October 10, 2017 – Pair of Mat Movers (Value $39.96) - WINNING # 45490
October 11, 2017 – (1) 14" White Basket Fan (Value $98.00) - WINNING # ​38977
October 12, 2017 – (1) High Tensile Wire Cutters (Value $17.69) - WINNING # 40876
October 13, 2017 - $1,000 in RAMM products (see below – restrictions apply) - WINNING # 76564
October 16, 2017 – (1) LED Electric Fence Tester (Value $12.99) - WINNING # 26655
October 17, 2017 – (1) Electric Fence Alert (Value $27.98) - WINNING # 86607
October 18, 2017 – 4 packages of Fly Tape System (Value $35.92)
October 19, 2017 – (1) Spa Kit (Value $65.00)
October 20, 2017 - $1,000 in RAMM products (see below – restrictions apply)
October 23, 2017 – Pair of Pail Safe Bucket Holders (Value $49.96)
October 24, 2017 – (1) Custom Brush Set (Value $75.00)
October 25, 2017 – Pair of Mat Movers (Value $39.96)
October 26, 2017 – (1) Equestrian Fire Pit (Value $280.00)
October 27, 2017 - $1,000 in RAMM products (see below – restrictions apply)
​
The $1,000 in RAMM products must be applied to in-stock items only. Credit only applies to horse fencing or non-custom horse stall products that are in stock. This excludes (but not limited to) ElectroBraid, wood posts, Lighthoof mud management panels, stall mats, and non-stock or drop ship items, freight, and sales tax. Awards have no cash value and are non-transferable. Odds of winning this Award are dependent on number of entries. By claiming the Award, agree to have their name, voice, or likeness used in any advertising material relating to this Contest, and to sign a publicity release, affidavit of eligibility and release of liability prior to acceptance of the prize.
RESTRICTIONS: Certain restrictions and terms and conditions apply for all Awards. Federal, state and local taxes, if any, are the sole responsibility of winners. No more than the advertised number of Awards as set forth above will be awarded. If, by reason of print or other error, more Awards are claimed than the number set forth in these Official Rules, a random drawing will be held among all eligible claimants making purportedly valid claims to award the advertised number of Awards available.
GENERAL CONDITIONS: This Contest is governed, with respect to each entry, by the applicable laws of the jurisdiction where the entrant resides. Proof of entry submission does not equate to proof of receipt. Neither Sponsor nor its parent, subsidiary or affiliate companies, or their promotional agencies are responsible for: (1) entry submissions received after the deadline set forth above or that are lost, illegible, damaged, incomplete, or for any transmission defaults, computer server failure and/or delayed responses; (2) entries, prize claims or notifications that are not received by the intended recipient, in whole or in part, due to computer technical or human error of any kind; or (3) telephone, electronic, hardware, software, network, Internet or computer or communications malfunctions, failures or difficulties. Sponsor is not responsible for any incorrect or inaccurate entry information; undelivered or misdirected or late arriving flyers through the US Postal System; human errors, technical malfunctions, failures, theft, tampering, destruction, or unauthorized access to, or alteration of, entries; data that is processed late or incorrectly or is incomplete or lost; typographical, printing or other errors, or any combination thereof or other errors. Sponsor's failure to enforce any term of these Official Rules shall not constitute a waiver of that provision. Sponsors reserve the right to make changes in the rules of the contest which will become effective upon announcement. Sponsors are not responsible for errors in the rules, their announcements, or the offering or the administration of the Contest.
RELEASE AND LIMITATIONS OF LIABILITY: BY PARTICIPATING IN THIS CONTEST, ENTRANTS AGREE THAT RAMM FENCE SYSTEMS, INC, THEIR RESPECTIVE AFFILIATES, PARENTS, SUBSIDIARIES, REPRESENTATIVES, CONSULTANTS, CONTRACTORS, LEGAL COUNSEL, ADVERTISING, PUBLIC RELATIONS, PROMOTIONAL, AND THEIR RESPECTIVE OFFICERS, DIRECTORS, EMPLOYEES, REPRESENTATIVES, AND AGENTS (HEREIN AFTER COLLECTIVELY CALLED "THE RELEASED PARTIES") WILL HAVE NO LIABILITY WHATSOEVER FOR, AND SHALL BE HELD HARMLESS BY ENTRANTS AGAINST, ANY CLAIMS, LIABILITY, LOSSES OR DAMAGES, RESULTING IN WHOLE OR IN PART, DIRECTLY OR INDIRECTLY, FROM ENTRY OR PARTICIPATION IN THIS CONTEST, OR ANY CLAIMS, LIABILITY, LOSSES OR DAMAGES BASED ON PUBLICITY RIGHTS, DEFAMATION OR INVASION OF PRIVACY. SPONSOR AND THE RELEASED PARTIES ARE NOT RESPONSIBLE IF ANY AWARD CANNOT BE AWARDED OR AN AWARD IS DELAYED AS A RESULT OF INTERRUPTIONS DUE TO ACTS OF GOD, ACTS OF WAR, NATURAL DISASTERS, WEATHER, OR TERRORISM. BY PARTICIPATING IN THIS CONTEST, ENTRANTS AGREE THAT SPONSOR AND THE RELEASED PARTIES WILL NOT BE RESPONSIBLE OR LIABLE FOR ANY INJURIES, DAMAGES, OR LOSSES OF ANY KIND, INCLUDING DIRECT, INDIRECT, INCIDENTAL, CONSEQUENTIAL, OR PUNITIVE DAMAGES ARISING OR OTHERWISE RELATED TO THIS CONTEST.
WINNERS LIST: The name of the prize-winners can be found by sending a self-addressed stamped envelope to Ramm Fence Systems, Inc, 13150 Airport Highway, Swanton, OH 43558. Requests must be received by December 31, 2017. Winners' names will not be released until they have been notified and accepted the Award.
SPONSOR: RAMM Fence Systems, Inc. 13150 Airport Highway, Swanton, OH 43558. RAMM Fence Systems, Inc shall not be liable for technical, pictorial, typographical or editorial errors or omissions contained herein.
​Visit us on Facebook here!​