Hotcote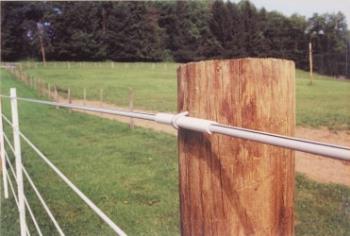 As covered in our first article of the series, electric fence can be a useful tool for teaching horses to respect their boundaries. Like a kick or nip from the dominant horse in the herd, electric fence signals ''stay back.'' Most horses feel the ''shock'' and learn to stay away from fence lines, which helps cut down on wear-and-tear to the fence system.
For many years, horse owners have known the benefits electric fence has to offer. Bare electric wire was a commonly used electric fence system. While bare electric wire has been used successfully for cattle, it has several shortcomings when used to contain horses. Hotcote® is a great alternative, and combines the strength and economy of bare wire, but in a safer form. Bare electric wire is very thin and hard for horses to see. This increases the chance of ''run-ins'' on the fence. When a horse runs into bare wire, the results can be devastating. The cuts are sometimes so bad the horse can never be ridden again, or worse yet, the horse does not survive.
Hotcote® was designed with horses in mind and is a 12.5-gauge steel wire covered in a polyethylene coating with 3 conductive carbon strips. The coating around the wire makes it easier for horses to see this fence and avoid contact with it. The coating also helps protect horses from injury if they do contact the fence.
Hotcote® has 1,620 pounds of break strength per rail and is the strongest electric fence RAMM carries. It is available in white, black and brown and comes with a 10-year limited warranty. In addition to offering the added protection of a polymer coating combined with electric, Hotcote® also has a clean look.
This fence system can be used alone in several rails, or in combination with other systems. Multiple rails of Hotcote® provide a strong, attractive barrier. Many customers choose 4 or more rails for their fencing system. Those who don't need to electrify all of the rails can combine Hotcote® with Horserail Coated Wire Flex Fence to achieve a consistent look.
If you have trouble with horses playing or fighting over shared fence lines, a top rail of Hotcote® can help. Your horses will get into less trouble, and maintenance on your current fencing system will be reduced as well. Additionally, a rail of Hotcote® can be added between rails to help stop horses from reaching through, or at the bottom to help keep horses from reaching under.
We recommend electric fence in high traffic areas, and Hotcote® is an economical solution. High traffic areas are any areas where horses tend to congregate (around feeders, at gates, etc.). Fencing in these areas tend to take quite a bit of abuse, and you can help keep maintenance costs down by keeping horses off of the existing fence by using electric.
Because this is a tensioned fence system, bracing and concrete are needed on ends, corners and any post out of a straight line. However, we've had many customers install Hotcote® themselves. We carry all of the accessories needed to install this fence properly, and our helpful staff can look at your layout and help you determine what you'll need to put this fence together.
Hotcote® works well on a variety of terrain, but we do have special suggestions for sandy soil or areas with standing water. Both sandy soil and standing water mean you'll need extra bracing for this fence. Our representatives can explain our recommendations for these conditions. When using any electric fence in areas with standing water, we recommend that you don't electrify the bottom rail.
Hotcote® is a low-maintenance, cost-effective option for many horse owners. Talk to us about your horses, your budget, and your needs to determine if this option will work for you.
Always remember: Follow manufacturer's recommendations for installation. The best fencing system can fail if you cut corners on installation. Corners, ends, gate posts and any posts out of a straight line need to be braced and concreted. This is crucial to the life, beauty and function of your system. With horses, anything is possible. That's why it's important for us to choose products that are safer alternatives. The difference between a good fence and a bad fence is usually one vet bill! The safest way to use any fence system is according to manufacturer's recommendations. For electric fence systems, this means keeping the electric on at all times.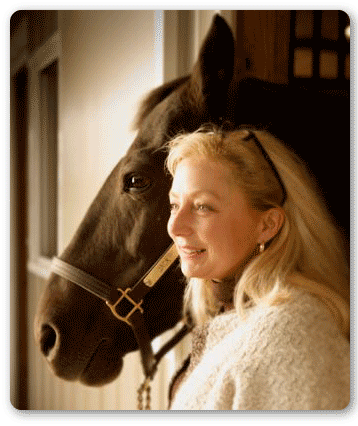 Debbie has over 45 years experience with horses and equine-related businesses. She has owned, trained, boarded horses and run stables at various times in her career. She is a certified fence installer, has given balanced riding lessons, and has shown horses in Western, Western Pleasure, Trail, English, Hunter/Jumper, Fox Hunting, Hunter Trials, Dressage and driving classes. Debbie has been involved in foaling, and just about every aspect of horse ownership possible, and she welcomes your questions and comments . If you are interested in using any articles by Debbie, please send her and email.


RAMM Fence Systems, Inc. makes every effort to provide reliable and useful information on horse health, care and products. The statements made on this website are based on years of experience with horses, however, they are based on generalized situations and should not replace diagnosis or treatment by a veterinarian or consultation by a professional. RAMM Fence Systems, Inc. does not assume any legal responsibility. Readers should always consult qualified health care providers for specific diagnosis and treatment.