Unmarked Territories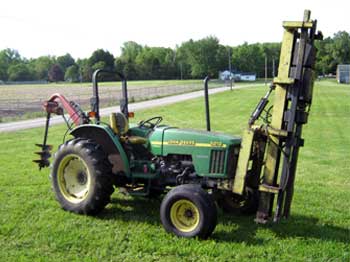 This time I think we will be safe in saying they may be here for a while! "Here", is at the actual location of the RAMM Horse Fencing and Stalls headquarters located in Swanton, OH.
Our family owned company and stall manufacturing division sits on 30 acres of beautiful "Ohio Black Swamp" land with Swan Creek winding around the back and side of the property. Wildlife abounds as well as a natural boundary of trees and other beautiful natural habitat. And now I would decide where the fence lines would go! (How positively exciting!!)
I have told our customers many times, "We are consumers just, like you. We have horses and have to make some of the same decisions that you make with your horses". And that couldn't be more truthful, as we are starting all over again! Fencing installation will start this Wednesday, and we need to be ready with a good plan so that the project is organized, runs smoothly, and can be completed as soon as possible (have to get those horses here!). So, here are some thoughts that may help you with any farm projects you may be contemplating!
First, to help anyone get started with just the thought of fencing, be sure to be flexible!
That means that plans will change due to not only weather, but schedules. We have been planning to put our fence in for over a month, but have had to push it forward for a number of reasons. Weather plays a huge roll in the ground being too soft for large equipment to drive on. It can delay a project even with the best of intentions and plans.

With wet ground, excessive weights from heavy loads of posts or fence can easily make trucks and trailers get "stuck in the mud" which can just add more work, (not to mention mounting tension with the people working on the job). Additionally, installers can get held at a job longer than planned due to inclement weather, possibly making the next job, (or your job), delayed. In my situation with the delay, I am finding that patience is a good tool!
Secondly, since we are laying out the lines of the pastures, I wanted to take all of the best ideas that we have done, learned, and have seen, and put them into our layout.
So first, Mikie and I put stakes in the ground as a "catch area" for all pastures. This common area is a "funnel" if you will, from all the pastures that we will build. The rectangle paddock will gather the horses from 2 to 3 fenced areas. The purpose of it is to let horses come into a smaller area, plus, (after being in the large pasture) which, with consistency, they learn to slow down and know this is where they will be led into the barn. I don't have to chase horses. They come to me and this saves time as well as teaches the horses to come when called in. They calm down in a smaller area and know what their next job is - walking with manners into the barn.
For me, this is a benefit as I don't always have a lot of time to bring horses in. Most importantly, this area will enclose the two entrance ways to the barn. If a horse happens to get loose, the only place to go is into the catch area. This is most important because we are now near a very busy highway! Any gates we install on the outside fence will have lockable latches and they will be locked the majority of the time.
Third, we made sure that there would be a 15' bridle path around all of the pastures.
This path will allow large trucks to drive around the area. We have a county program that will spray for mosquitoes through the summer, and we will definitely be calling them because of the pond on one side and Swan Creek on the other. The path will also serve for riding and driving (which, to me, is the best part)! All other gates will be inside of the pastures and have 'Sure-latches' which are heavy-duty latches that I have used for years. I have found these latches to be durable and long lasting (even when I boarded horses). If you are debating on putting in a gate, or not, a good rule of thumb is that it is easier to put one in when you install your fence, than to try to add it later. If you don't intend on using the gate, lock it. But if it's ever needed as an entry, you have it there.
The long side of the barn will have fence running alongside it rather than using the barn for one side of the pasture.
I have personally witnessed the destruction to barns from horses being allowed to be right next to them. Even when horses swish their tails and stomp at flies...the barn wall gets in the way. Dents, scratches, and even holes occur from just everyday life - not to mention abuse. To save on the investment of the barn - the fence will be between the horses and the barn wall!
Mikie and I have to decide where a "hitching" post will go.
But I like to have one for a number of reasons. If you forget something in the barn (i.e., gloves, crop, fly spray), you can tie your horse to a stable and strong place and not worry about where to tie outside. If you drive, you will have a safe place to harness. If you want to work on the horse that is not used to being tied, it can be an extremely helpful tool. Also, it can be a great place to dry saddle pads, clean saddles, or bridles!
We have chosen to do 5 strands of coated wire and a rail of electric.
I feel this is a good choice since the highway is nearby. This fence will encompass an area with natural boundary lines around it. The second phase of our fencing will be the Horserail Flex-Fence 5.25" rail that will go down the driveway and form an additional pasture as well as a riding arena. Just like our customers, we will do this in phases allowing us to get our horses home, work on the inside of the barn, and continue to finalize the move! I cannot wait to see my Horserail Flex-Fence up and my horses inside of it! Our stakes are in the ground. Tomorrow, they are calling for 3 more days of rain, but we are ready for installation! I'm getting into my tool belt and pulling out "patience" because I'm sure that will be needed next! But I also know it will not be long and my beloved horses will be home! I can't wait. It will be so wonderful to have the horse's home, again!
Next month I will be talking to you about the installation of our fencing as well as giving you more helpful ideas for your own farm. If you have any questions or comments that you would like to share with us about your own fencing experience, please feel free to email me. Happy riding this spring, Debbie.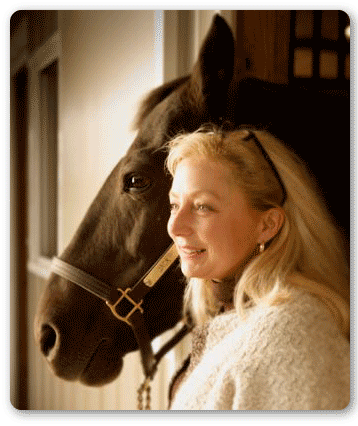 Debbie has over 45 years experience with horses and equine-related businesses. She has owned, trained, boarded horses and run stables at various times in her career. She is a certified fence installer, has given balanced riding lessons, and has shown horses in Western, Western Pleasure, Trail, English, Hunter/Jumper, Fox Hunting, Hunter Trials, Dressage and driving classes. Debbie has been involved in foaling, and just about every aspect of horse ownership possible, and she welcomes your questions and comments. If you are interested in using any articles by Debbie, please send her an email.


RAMM Fence Systems, Inc. makes every effort to provide reliable and useful information on horse health, care and products. The statements made on this website are based on years of experience with horses, however, they are based on generalized situations and should not replace diagnosis or treatment by a veterinarian or consultation by a professional. RAMM Fence Systems, Inc. does not assume any legal responsibility. Readers should always consult qualified health care providers for specific diagnosis and treatment.