Back to Ask Debbie Questions »
Acacia M.
Dear Debbie,
I really like your e-mail (newsletter). I was wondering if you could give me any good training tips (driving) on how to train a three-year-old pony who just lost an eye (right).
Acacia M.
Hi Acacia,
I'm not an expert with your particular question, but I will give you some opinions that you may want to consider. A lot will depend on how much training your pony has had already. He is still young and is very able to learn. With the eye injury occurring at such a young age, he should be able to adjust and learn to work with a handicap, just as people do. John Lyons' stallion "Zip" is blind and still does everything John asks him to do. Looking at Zip and seeing what this horse can do, you would never know that he is blind! I feel the one main point should be patience with your pony, whatever you decide to school him in. Give him time to trust you with whatever you ask. I would consider accomplishing all the ground work you could prior to training to drive.
Consistency is a great tool in itself. So even if you can only spend 20 minutes a day with him, it really helps keep the lesson fresh in his memory. Remember to always end each training session on a good note. I would look into consulting a trainer that has taught driving to horses. He or she will give you really good tips to get started or how to best pick up where you left off, if you had already begun your pony's training. If too much time has elapsed, you may want to start again. Good beginning training is so worth its time. It's hard to UN-school bad habits or poor training, so get off to a good start and it will definitely pay off later.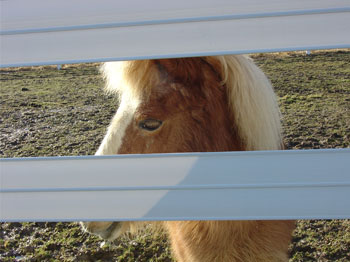 Start with a good sursingle for ground driving (previous training in lounging will help here), and work your way to a good harness for ground driving. Make sure your harness fits well. Ponies come in all sizes and many harnesses I have seen have not been fit well to the pony. A good fitting harness will help both you and your pony.
My feelings are that you also should try subjecting the pony to a lot of different sights in harness, before you actually use your cart. With the eye injury, he needs to figure out all the sights and sounds so they will not scare him. It may be necessary to eliminate the blinders from the bridle for better sight. However, that means that your pony will be exposed to just about any thing. Mailboxes, ditches, drain pipes, dark spots on the road can all be major distractions or scary objects.
Caution needs to be taken until your pony is fully able to handle these challenges before using your cart for road driving. I hope this helps you, and if you have more questions, just let me know! Happy Training!
Debbie