Back to Ask Debbie Questions »
Aggravated Mucker
Dear Debbie,
I have a problem with my two horses in their stalls. They like to walk around all the time. They are out most of the day and are in at night. I pick their stalls twice a day and it is very frustrating when I have to completely pick the stalls each time. I have balls in their stalls to try and keep them busy, but this doesn't seem to be working. What can I do?
Aggravated Mucker
Hi Aggravated,
Thank you for your email! There are many possible answers to your question; I will try to give you some ideas. Some horses can circle due to boredom. If this is the case, there is not a whole lot you can do. You might want to consider a 3-sided shed out in your pasture. Horses do very well in most normal weather conditions. However in inclement weather, stalls are a safer environment. Depending on how much grass your horses eat in pasture, you may want to try giving them some extra grass hay in their horse stalls to keep them busy. It is a good source of fiber without all of the protein. However, if your horses still circle and do not eat the grass hay, this idea will not help.
Can your horses see each other? If not, the circling might be caused by social anxiety. Horses are herd instinct animals and sometimes become dependent on their pasture buddy for security. You could consider putting grill work between stalls or front grill work so they can see more activity in the barn. If you feel your horses would like it, consider a door with a drop down V-door (or gossip gate). The horses can put their heads out in the aisle, and see more than just from the front of the stall.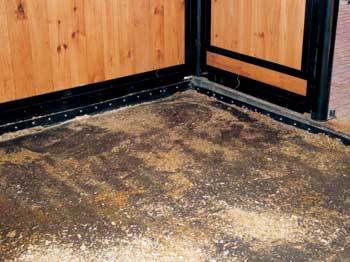 You may want to consider a soft stall mat for your horses. Due to the softness of the under-mattress, less bedding is needed, creating less work for you when you muck. I hope these ideas are helpful. We all want more time to ride and enjoy our horses rather than just working all the time. Let me know what works for you and your horses.
Debbie