Back to Ask Debbie Questions »
Betsy M.
Dear Debbie,
We have a new chocolate Lab. She is 1 year and 3 months old. We have only had her for 3 weeks and instead of keeping her tied up, my husband wants to add another electrical wire to our existing fence and let her roam in the pasture. She has been going out with me to feed the horses since we have gotten her and loves being out there. He wants to put her plastic dog house out there also. It's like Little Tykes plastic. They seem to respect each others space. The horses used to have a lot of dogs barking at their feet before I got them. This dog is real sweet and doesn't bother them at all. Is this a bad idea?
Betsy M.
Hi Betsy,
Good question. I can only guess, because anything can happen at anytime. I feel most people know what their animals can handle. Additionally, some animals are just so sweet and "laid back" that they can handle and like almost any situation.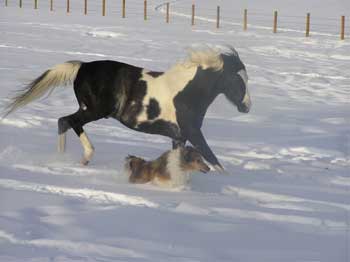 My rule of thumb is to always take the safer way. If you love your lab, and she sounds like a really nice dog, I would have to say keep her separated. That way, you have no question if you're doing the "best thing" and not taking any chances. Ultimately, I truly want to avoid any kind of injury. It only takes one kick, even if the horse is just irritated with flies, and that could be fatal for your dog. I wish you the very best of luck.
Debbie