Back to Ask Debbie Questions »
Caitlin Boyle
Dear Debbie,
I just got a horse for the first time!! Comet is the absolute perfect horse! But sometimes he acts like too much of a stallion instead of a gelding. Is there anything I can do to keep him for the ladies? Thanks.
Caitlin Boyle
Hi Caitlin,
Thank you for your good question. I wonder, how long he has been gelded? Is he young? If so, you may need to separate him from mares for a while. While good ground manners are expected, you may want to give him a break from the temptation to misbehave.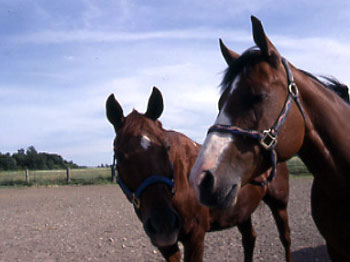 If he is not young or newly gelded, you may want to have your vet evaluate him to be sure he was gelded properly. Some horses are "half gelded" and it can make your gelding act like a stallion. I hope this will help you, let us know how everything progresses!
Debbie