Back to Ask Debbie Questions »
Casey I.
Dear Debbie,
I recently bought a two-year-old green-broke gelding. He is extremely friendly and nice, but I cannot get him to canter on ground or in the saddle. I have never had a problem with a no-go horse before. Even when I am right on his rump, he keeps trotting and refuses to canter. My question is; how do I get my two-year-old to canter?
Casey I.
Hi Casey,
I would like to know more about this horse's background before I make detailed suggestions.
What breed is he?
How much training did he have in the past, and what kind of training did he have?
Do you have a large pasture where you see him run?
Has he ever had an injury?
Did the previous owner show him to you at a walk, trot, and canter?
Without knowing these answers, I can tell you that training a young horse can be a challenge, especially if your training methods are different from the former owner's methods. If you have tried a variety of training techniques and strategies to no avail, it may be time to seek the help of a professional.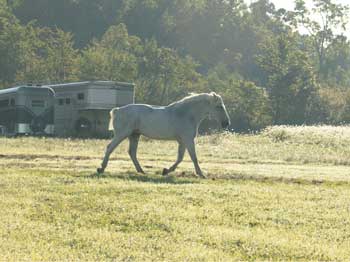 It is so important that our horses get started on the right foot. When we know we cannot go any further with their training, seeking outside help is good for our horses and us. Good professional trainers know exactly when to say "quit" and when to say "good job." These cues are what your horse understands. Split-second decisions made during training make the difference between a good lesson and confusing one for your horse.
A good trainer will tell you what is happening and show you how to "ride through" or work through the challenge. Also, you should be able to ask your trainer questions and get answers that you understand. Don't be afraid to ask your trainer to explain a cue until you understand the mechanics of it. I hope this will help you. Please keep me posted with the progress of your two-year-old.
Debbie