Back to Ask Debbie Questions »
Cathy R.
Dear Debbie,
My 14-year-old gelding has been diagnosed with COPD, better known as heaves. Being outdoors full-time isn't an option, although he is outdoors as long as the weather and grass growth permits. Because of Sonny's sensitivity to dust, I am concerned about continuing the use of peanut hulls as bedding. Can you suggest alternative bedding that may be more appropriate for a horse with heaves? I feed him grass forage dingee and low-fat grain. He takes one Albuterol tab daily.
Cathy R.
Hi Cathy,
Thanks for writing. We had a large pony with heaves, so I know what you are going through. If you can get good circulation in his stall, that will be a great help, as long as your barn is not dusty. A window with grillwork is a good idea so you can let as much air in as the weather permits. The fresh air is most important.
We found a nice, dust-free straw that worked well for us, but it really has to be clean. If you cannot find good straw, there is bedding that is made from shredded newspaper. I do not know a source, but I'm sure if you search the Internet you will find several providers.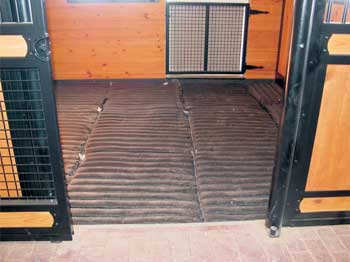 Another idea is using a ThuroBed mat. They cost more than regular stall mats, but would help you greatly. These mats are filled with rubber pieces and feature a top cover for the mattress. The top cover keeps all dampness on top, allowing a small amount of bedding to be used (shavings that are clean, or the other options I mentioned). Less bedding equals less dust. You can use it without bedding, but must clean the wet areas as needed. They can be absorbed with a bit of sawdust or you could also use stall dry. This product comes under many names. It is a granulated product that absorbs wetness and clumps together (somewhat like kitty litter) that is available at most local farm stores.
If you are interested in the ThuroBed Mattress System, we can help you with that. Just let me know. I hope this give you some ideas. Please let me know if we can help in any other way.
Debbie