Back to Ask Debbie Questions »
Cindy J.
Dear Debbie,
Hey....about hay....the horses are suppose to have low quality hay because they are fat...per the vet. I am buying some yellow hay that is sun bleached. I feel sick doing that since most of the hay I've seen is green. Any comments on that? The horses are use to this yellow stuff...I just feel embarrassed having it in my barn!
Cindy J.
Hi Cindy,
Since horse are grazing animals, it can be really tough to conquer the balance between eating enough to "graze" and not let an "easy keeper" get over weight! Horses need protein in order to be sure to be in good health. You can check the internet for proper protein content for your horses needs. I usually try keep my horses protein content between 15-17%. Do you feed your horses grain? If you do, you want to be sure that the combination of your hay and grain are not 'loading your horse with extra calories".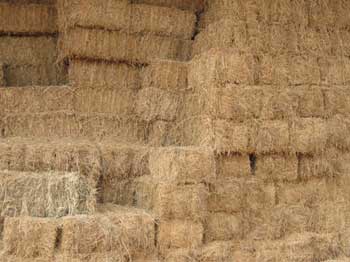 One other thing to check is if your grain has 'carbs' in it. Some feed companies are adding carbohydrates in the feed and that can even be worse for over weight problems. If you are not riding much, you might like to just feed a few oats for 'roughage'.
Additionally, you could add a mineral-vitamin supplement if you feel your horses are not getting enough nutrients from the sun bleached hay. Remember that "sun bleaching" may not reduce protein as much as a 'grass hay' would lower protein and give your horse its natural balance. You might want to consider getting a green grass hay. It will provide roughage and be more palatable to your horses! Hope this helps you!
Debbie