Back to Ask Debbie Questions »
Debra P.
Dear Debbie,
I am having trouble with two baby quarter horses pulling up their stall mats and digging up the underground stone. Do you have any suggestion? Are wall-to-wall stall mats available, and would they help my situation? Please let me know what you think and thanks for the help.
Debra P.
Hi Debra,
Yes, I have some ideas for you. First, in your email you said that there is ground stone under the mats. Stone gravel is a good base for stall mats, however, if it is not even, the mats will have edges that will be "fun" to play with. Two ideas: make sure your stone gravel is similar to or is a limestone-screening product. When these screenings are leveled and watered, they get hard, forming a more stable base. Secondly, when mats are fitted tightly next to each other on a level surface, it's very hard to lift them.
The next idea is more expensive than the "fix it" ideas, but I think the best solution for your playful horses would be using the ThuroBed Mattress System.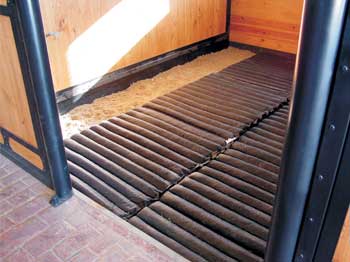 They are a 3-piece system: mattress, one-piece cover, and plastic holding strips. The top cover is extremely durable, the mattresses are very therapeutic, and they save you even more by using less bedding than other mats.
If you are interested in more information on the ThuroBed Mattress System, please let me know. If you send the dimensions of your stall, if you have a concrete aisle, or a dirt aisle, and your state and zip code, I can send you information and pricing. I hope this helps you "baby-proof" your stall.
Debbie