Back to Ask Debbie Questions »
Heidi J.
Dear Debbie,
Hi Debbie, I am putting up Ramm fencing this summer - I was wondering if you could give me any recommendations on good places to go for gates? I have tall horses, and I am concerned with safety for the horse, and ease of use. I worry about cattle gates because horses can paw and put their leg through them, right? Thanks much.
Heidi J.
Hi Heidi,
Hello Heidi! Thank you for your question. I also have tall horses and a draft too! We currently carry the gates that I use on my farm. I like to use a heavy duty steel 2" tube gate. They don't bend and I have never had my horses get a leg caught in them. They have horizontal 'rails' and the spaces are wide so that horses can get a leg out if that happens. I have not had an injury with a horse to date with this type of gate.
I would suggest that when you use a heavier gate, you be sure that your posts are concreted well so that they hold the weight of the gate. We also use our one handed gate latches that have a ledge that the gate 'pin' (the part that fits into the latch) sits on which holds the gate in place. Without it, the gate may sag after time.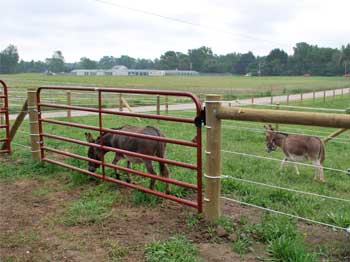 I love our gates. I use 16' utility, but my guys don't try to 'stampede' through the gate area. 16' allows me to get larger equipment in and out of the pasture. We are thinking of cutting one of our fields for hay and this would allow the access needed. I suggest no smaller than 8 or 12' gates. Also, be sure to keep the distance between the gate and post close so that your horse cannot get his head or leg in that area.
One good reminder is that you will most likely always need to check gate areas as the seasons can make posts move as well as leaning horses.
Adjustments can be made at the hinge side of the gate. I don't use the chains that come on the gates , they are not strong enough for me. I hope this helps you.
Happy Horsing Around!
Debbie