Back to Ask Debbie Questions »
J.L. Jones
Dear Debbie,
I very much like the look of the PVC white fencing but I am wondering how to keep them clean. Our neighbors fenced their 15 acres with PVC fencing and now 3 years later it has algae or some other green growth over most of it. Before we fence our 25 acres, I would like to know if there is a practical way to clean the fence. Our neighbors have had to resort to 'hand washing' theirs, as a power washer did not work; the green stuff comes right off, but you have to rub it off, not spray it off. Hope you know of an easier way or of some product that once applied would keep the algae from growing on the fencing. We love the look of white PVC fencing and would like to use it as our perimeter fence if (and its a big IF) you know of a practical way to keep it looking bright and white.
J.L. Jones
Hi JL,
Thank you for your good email. I imagine that you live in a humid area, or one where you have a lot of trees. PVC generally will not stain, but can pick up dust, which can grow a fungus. Or, if your fence is under trees that drop sap; it can become sticky and pick up dirt. You will notice that it's not only on fences, but other PVC products as well. I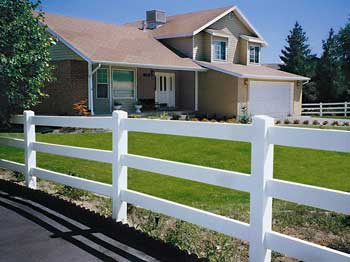 t will not hurt the fence, but you are right, it may need to be cleaned. Generally, we tell customers to try a bleach and water solution. It cleans faster than just detergent. I have a suggestion, though. You may want to see if you can get samples of fencing before you purchase. Set them outside and watch for signs of algae. You may find differences with PVC surfaces.
Or, another suggestion is to look at a flexible fence that you can get in black or brown. They are very beautiful and save a lot of time in maintenance. You additionally get break strength and flex on impact! Please let me know what you choose. If you need further help, please feel free to email.
Debbie