Back to Ask Debbie Questions »
Linda L.
Dear Debbie,
I am interested in the black, coated wire electric fencing for my horses. There are not a lot of black wire photos on your site, and I was wondering if there is a drawback, like fading, on choosing the black? How long can I expect this fence to keep working and looking good if installed properly?
Linda L.
Hi Linda,
We have carried the black, coated electric wire for years. Black tends to blend into the background of a photo, and is more subtle than white. However, when you see the fence itself, it has a clean, rich look. All of our fencing materials are made with UV protectors that keep the colors true. Our polyethylene coating is also color crease resistant, meaning if you bend the material, there will be no light or white creases in the material. If installed properly, this fence should last a considerably long time.
I have friends who have had the electric coated up for years without any complaints. I personally like black. I have seen no problems with visibility of any fence, any color--as long as your horses are aware of the boundaries from the beginning (which I feel every horse needs to find its boundaries with any new environment). We will be happy to help you with any other questions or estimate you would be interested in.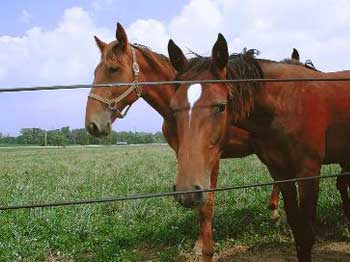 As always, we carry products that we have used on our own farm. Our interests are the same as yours, and we want to be sure to have safer, stronger and more economical fencing for our horses. Be sure to consider your horses' attitudes when choosing a fence. Some horses just need more of a barrier, or wider rail. Others are fine with electric alone. I hope this helps you. We look forward to helping you and keeping your horses contained in a safer fence system.
Debbie