Back to Ask Debbie Questions »
Lisa C.
Dear Debbie,
I recently placed an order for Flex-Fence. In addition to the Flex-Fence, I ordered white paint because I want to color coordinate the posts with the fence. I was planning on getting cedar posts locally, but my husband is questioning whether your white paint will hold up on raw cedar. I saw a picture of your white post and Flex-Fence. What kind of posts did you use and how is the paint holding up? I would appreciate all the help and advice you can give me.
Lisa C.
Hi Lisa,
I would suggest a pressure treated pine post with a .40 retention rating. This means that the life expectancy of your posts will last 40 years at ground level. You can get other posts with greater retention and they will last even longer, but I personally feel that these posts work very well and for a very long time. Posts that have been recently treated should be dry before they are painted. Temperatures should be above 50 degrees and two coats are suggested. We did use our Flex Coat paint and I would recommend using it. We have had extra ingredients added to the paint to help it contain more elasticity.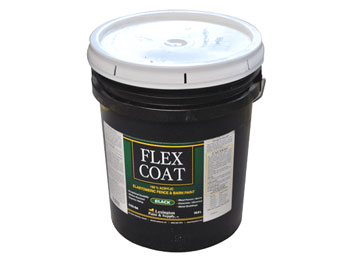 This helps the paint with the change of the seasons, to not flake. I drive past our old farm about once a month. The paint has held up very well. We boarded horses at that farm and the painting was done about 11-12 years ago (I know, I helped paint them!). We put our posts in the ground and let them dry before painting or fencing.
Again, if your posts have been recently painted, they may need even a month of drying time depending on where you live and your weather. In warm states, the time could be substantially less. (WI weather varies on the season, ask a local lumber store for a recommendation of drying time. Even if you do not get posts from them, they will know what will work in your area).
A word about pressure treating; be sure your posts are not just "treated". Pressure treating is a deeper penetrating process and is a longer lasting post. Also, red pine is used more commonly than yellow. Yellow is a harder wood, but you cost is much higher and may be prohibitive. I hope this helps you. If you have any more questions, please feel free to ask.
Debbie