Back to Ask Debbie Questions »
Liz F.
Dear Debbie,
I am in the planning stages of building a small boarding stable. I would like to have a small indoor riding area and would like your opinion on which way to go. The barn will be either 50'x100' or 60'x100'. I would like the stalls to go down one side of the barn and leave the rest open for riding. This will leave an area of approximately 36'x88' give or take a few feet. Would that be enough room for riding indoors, or should we build the barn with the stalls opposite each other at one end and leave the rest open (sort of a large round pen) at the other end? The only riding that would take place would be just general exercise if the weather outside were too bad. I would appreciate your advice.
Liz F.
Hi Liz,
If you consider that a round pen used for exercise is 60' in diameter or on the smaller side 50', you may want to consider putting your horse stalls at the ends of your barn. With a 36' turn radius, it's very tight for a horse to turn at a trot or faster. If you put the stalls directly in the arena, be sure to consider enough ventilation for your horses.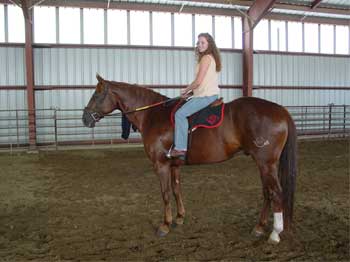 Grill work on stalls would help, and you'll also need to keep the footing free of dust. Stall windows with grill work would also be a consideration. If you have further questions, feel free to email. I hope this will help you.
Debbie