Back to Ask Debbie Questions »
Lynne Taylor
Dear Debbie,
I am getting ready to build a barn; I seem to be having a hard time finding an answer on what type bedding to use for the stall. Concrete with rubber mats and shavings, clay floor with mats and shavings? Do we put drains in either of those choices? What is best for the horse?
Hi Lynne,
You ask a good question, and one that can be answered in many ways, according to what you like best! If you use concrete under your stall mats, it will keep the floor even, and you won't have to deal with settling of a stall base. I would recommend using stall mats that are at least 3/4", as well as an adequate to deep bedding to absorb the urine. Your choice of bedding may be shavings, or other bedding products such as shredded newspaper.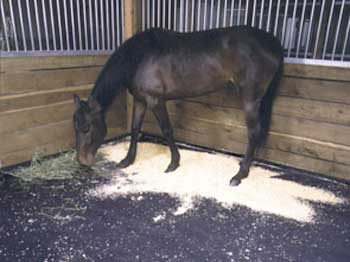 If you don't keep up with your stall cleaning, or if you like to clean the concrete floor, drains would be helpful. I personally have used stalls with dirt floors, dirt floors with stall mats, and currently am using concrete with stall mats (no drains). I have been very happy with the stall mats on concrete. My horses are mostly in at night and in inclement weather.
Clay is not my choice for a stall base. Most clay holds dampness longer, and when it dries it can crack. The best choice for your horse is the one that you personally like the best, one that helps your horse to be comfortable and dry. If I can answer any other questions, feel free to email.
Debbie