Back to Ask Debbie Questions »
M. J.
Dear Debbie,
Maybe you can help me with this question. Recently, I put in the barn shell and am working on the interior. I'm having difficulty deciding where to put the steps/stairs to the hayloft. Regular steps on the tack/office space or steps straight up from the aisle? Is it harder to put things in the upper level without steps straight up? But steps can take up a lot of room in the office space. Do you have any suggestions?
M. J.
Hi MJ,
This is a good question, MJ. I'm not sure what size your barn is, how much room you have to work with, or how often you need to go up to the loft. If your hay is in the loft and you feed from there, you want to make your steps very convenient and easy to climb. Steps on an angle would be the best in this case.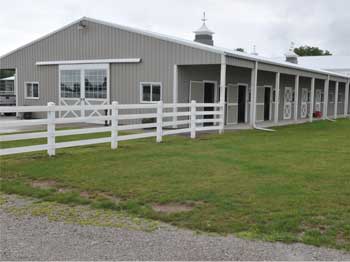 Everyday chores become a lot of work over a long time, so be good to yourself. Make it easy for you without obstructing the area that you need to share with your horses. If you have further questions, just let me know.
Debbie