Back to Ask Debbie Questions »
Mitch Witherall
Dear Debbie,
I am a county humane officer, and lately we have had a horrible week; two separate barns, both in the worst conditions you can imagine. Do you have any more articles on this (stall cleanliness) as well as the problems (that occur) if you do not keep things clean? I need this for the legal aspects and to educate people about this very type of thing. Especially the prosecutors I work with that are not horse people to begin with; this will be a very big help to me. I just had one barn with 36 horses, very bad inside and out. The stalls had puddles of urine in them with babies standing in this disgusting waste and they were not being fed properly either. We had a vet out and he noted all 11 mares were graded a 4 or less on the Henneke Body scoring chart. Sad isn't it, but true. That is why I need all the articles you can think of to help me. The prosecutors need information and these articles are my best tools to prove my point. If there is anything else you have written about I would really appreciate you sending them to me.
Mitch Witherall
Hi Mitch,
We know what you are talking about and it's very sad. I personally have seen it, and tried to get help, with no avail. It is wonderful to know that you take your job to heart and go above and beyond what others do! We presently do not have other articles on the affects of poor barn care, but will be sure to add it to our list and write articles on this topic.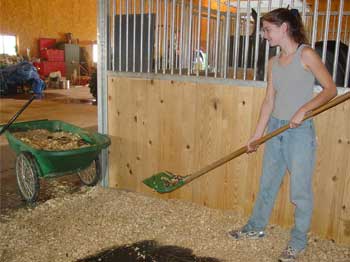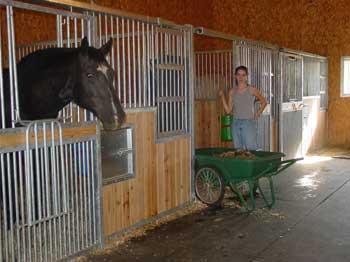 Someone we know who has taken vet assistant classes recommended a book to us. It even has the Henneke Body scoring chart documented. It has chapters on the diseases that can occur from poor stall and barn cleaning. There is a lot of other info as well, but it may help you. It would be a good resource and has solid factual info written by James M Griffin, MD and Tom Gore, DVM.
It is called "Horse Owners Veterinary Handbook" second edition, 1998 by Howell Book House. Also, Michigan State University has a leading Veterinary Teaching Hospital. Their website has a wealth of information. I wish I had more to help, but maybe this is a good start. Your email has inspired us to be sure and write more articles on these issues. Thank you!
Debbie