Back to Ask Debbie Questions »
Naomi C.
Dear Debbie,
I have a 14.2-hand Welsh horse, and she is driving me nuts. I have posts and wire with a strand of electric rope at the top around the perimeter of her field, which is approx. 2 acres. The problem is that I have divided the field up, as she is prone to laminitis. I use plastic posts with 2 strands of tape, which connect to the main electric. This does work, as I have had several shocks from it myself. The problem is that my mare keeps breaking through the fencing, normally treading on the tape as she has worked out she won't get a shock through her hooves. I need some help. I have racked my brains trying to come to a solution, as it isn't doing her or my pocket much good. Any suggestions would be gratefully received. Thank you for your time.
Naomi C.
Hi Naomi,
I feel that your horse knows that she can "throw her weight around" and get what she wants. If you could install a stronger rail that she could not get through, it would help. I would first suggest a new fence system to you because it would have all of the benefits of less maintenance and strength that you are looking to have with your horse. However, if you feel that this is out of your budget, you may need to install our electric coated wire rail. The 12.5" gauge pre-straightened high tensile steel wire has a break strength of 1,620 pounds per rail. If you use 2 rails, it increases the break strength to 3,240 pounds (we should talk about how many rails you will need to solve this problem).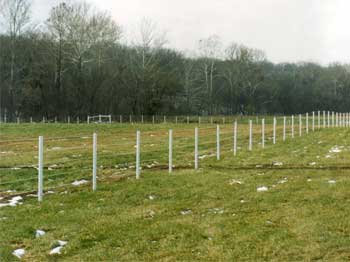 With any rail that has a break strength, you must have a good bracing system, so at the least, you may need to redo your end and corner braces. This fence is made to be electrified, and needs to be kept on at all times (as any electric fence should). It comes in black, white, or brown. If we could discuss where your horse feels she can get through your existing fence, and what you are using for posts and bracing, we can come up with a plan that will help you and help to keep your Welsh horse in its pasture. It's really a good thing to seek out the right help when you have a situation that is difficult. This way, you are taking good care of your horse, and in the long run you will save hard earned dollars as well! I look forward to hearing back from you and talking more about your situation. Thank you for your email.
Debbie