Back to Ask Debbie Questions »
Renee T.
Dear Debbie,
I'd like a PVC fence, but don't want the white or black. Would prefer a brown fence around the perimeter of our property, but will use no climb fencing with a natural/brown top rail. Where can I get brown PVC fence rails & posts? Any suggestions, as we're going to start putting in our fencing at our new place soon....I hope. I have wooden split rails at my current home and love their natural look as they age and blend with the trees etc., but those posts needed replacement on many after 15 years. Hoping the brown PVC will avoid that maintenance. Any suggestions appreciated.
Renee T.
Hi Renee,
I am only aware of a color that resembles a "buff" or oatmeal look. We have not carried PVC in dark colors because they become "chalky" after time. That is because darker colors absorb more UV from the sun, causing the chalky look. With flexible fence, this does not happen. Flex rail does not contain the ingredient that makes PVC rigid. Therefore, Flex-Fence in dark colors does not become brittle or discolored.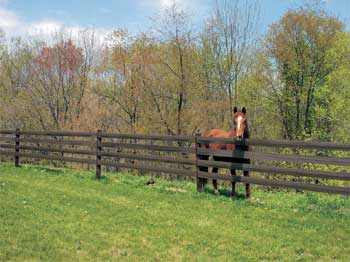 I believe that our Flex rail would be your best option. I feel in this case that you would really like our High Impact Flex-Fence in brown. It comes in 5"- 1" widths. I truly believe you will have a natural look without the maintenance of dark PVC or split rail. The rails will not have to be painted and you can leave your treated posts natural! I feel that by doing this, you will be meeting your criteria of safer alternatives and break strength, achieving the look you want, and saving hard earned money along the way. If we can help you with an estimate, or offer more suggestions please email me or call. Thank you and good luck with your project.
Debbie