Back to Ask Debbie Questions »
S. Hutch
Dear Debbie,
We are in the early planning stages of our fencing layout. A major concern we have is that our neighbors have horses in a fenced pasture that is not electric. Our fence will run parallel to theirs. How far away should our fence be from theirs so as to prevent any contact by their horses onto our fence?

We intend to use electric fencing, so our horses will not be reaching over the top of our fence. Our concern is: How may feet over the top of a fence can horses reach?
S. Hutch
Hi S,
I have many thoughts about your questions. First, I am wondering what kind of fence your neighbor has? If your horses are a neck and a head width apart, the neighboring horses will be tempted to socialize. That means their fence is now a "high traffic area" and will be put through a lot of abuse (depending on the temperament of all of your horses).
Secondly, if you are intending on keeping weeds and tall grasses down, you need to have enough space to drive your mower through that lane. I personally like to see aisles between fences at least 12-16' apart. This allows maintenance of the lane, keeps weeds down, and keeps ample space between neighboring horses. Most farms with multiple pastures use the 12-16' width. It allows the large equipment access, and keeps fences from being abused.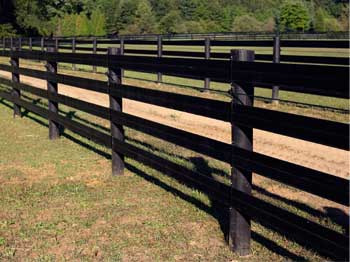 But, back to your original question, how far can horses reach? It could be around 3' depending on the horse's size, and how much they push on the fence. But before you fence, think of the future of that area. It is easier to do it right the first time, than to do it twice. The amount of space you may loose in your pasture, may be a blessing in the long run. If I can help you with your project, just let me know. Thank you for your question.
Debbie