Back to Ask Debbie Questions »
Sara Hutchinson
Dear Debbie,
We are in the planning stages for pastures for our future horses. We plan to have 5-6 smaller sized pastures on our 5.25 acres. (We would like to rotate to keep some grass.) What is the minimum width recommended for a pasture, and how many horses per smaller pasture would you recommend? I am looking at areas around 75' wide, but we could go a bit wider if needed. The way our land is laid out, we have a couple of narrow but long strips we'd like to fence and use. Is it necessary to determine the length based on the width? For example, can a pasture be too long for it's width? (Hope that's not a dumb question) Thank you so much for your advice.
Sara Hutchinson
Hi Sara,
Thank you for your email. From your comments I gather that you are trying to make the best use of land, and keep some grass for your horses. What I'm not sure about is how many horses you are planning to put into your fenced areas. The rule of thumb in our area is one horse per acre, up to 5 acres. After 5 acres you may put more horses in the pasture. I know many horse owners (depending on where they live) that could not do this because land is so scarce and expensive. So it truly depends on what your exercise schedule is for your horse.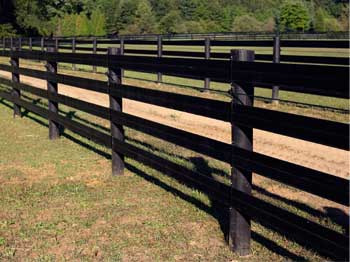 On the other hand, most riding arenas are based on the length being twice the width. That works well for discipline riding. When it comes to pastures, we need to think of your horses being able to run and turn a corner easily without getting hurt or hitting your fence (and just be able to be a horse). The smaller the pasture is, the more abuse it will receive, which results in maintenance.
If your horses are more "laid back," if you exercise them regularly, or if you have fewer horses, a narrow pasture may work for you. Just remember that if you see signs of wear to your fence, repair it then or make some changes with your turn out (fewer horses in one area, night turn out, etc.).
I hope this has given you some food for thought. If you would like to contact me and discuss the particular variables with your horses, please call toll free at 1-800-434-8456. And always know, there is never a "dumb" question. The more I learn, the more I find out what I did not know.
Debbie