Back to Ask Debbie Questions »
Steve P.
Dear Debbie,
When using one strand of 5.25" Flex and 4 strands of coated electric, what distance should I use between fence posts? Some say with horses, its better to go 20 feet because a horse is less likely to get hurt the further apart the posts are if they run through it. I would like to know what you recommend for your fence.
Steve P.
Hi Steve,
Thanks for your letter. We suggest using 8', 10', or 12' post spacing with Flex Fence. Closer spacing provides more stability between the rails. That means the rails don't give as much, allowing a horse to pull away and not get twisted in the rails. With further spacing, there is still flex, just not as much. We have suggested this for years, and it works very well. I personally would not go any further than 12' spacing.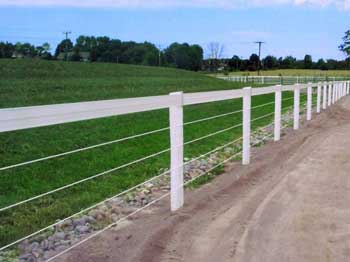 I had this same combination on my farm. We had a natural boundary line that ran beside it in a large pasture. The 12' spacing worked well for us. If I were using this combination in a smaller pasture, I would have chosen closer post spacing. I hope this helps you, and thank you for your email. Please keep me posted on what you do.
Debbie