Back to Ask Debbie Questions »
Susan Robinson
Dear Debbie,
We are considering using electric fence for our broodmare and foal pastures. Will this be safe and what type of electric fence should we use? Thanks so much for your help.
Susan Robinson
Hi Susan,
I know of many large breeding farms that use electric to section off pastures for mares and foals. I have found that many farms like to use the 1.5" tape. It's easier to install, it is visible, and will stretch if horses get in the rail. I always say that anything can happen with horses, so be sure that when you install any fencing, follow the manufacture's instructions.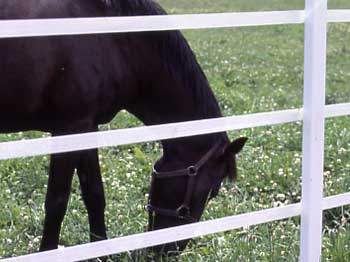 Use recommended post spacing, and if you want to be extra careful, keep post spacing closer together at 8' or 10', rather than 12'. Wood or plastic posts are safer than metal -t-posts. Be sure all connections are secured properly, and test your fence to be sure it is on at all times. Use at least one set of ground rods per pasture (unless your pastures are very small).
If you are considering the use of different types of electric fence and would like to discuss you fencing needs, it's best to talk over the phone about your specific needs. Additionally, be sure to get the right size charger for your area. With young foals it's so important to be sure you do all you can to get them off to a good start. If we can help to answer any specific questions, please call our toll free number at 1-800-434-8456. Thank you for your email, and good luck with those precious babies.
Debbie