Back to Ask Debbie Questions »
Suzanne A.
Dear Debbie,
I reviewed your live chat about fencing on EquiSearch and decided to see if you can help me. My sister and I received word this week that our barn has been sold to a developer and we must move our two horses. Our gentleman is a 20-year-old, 17-hand Thoroughbred; and our young lady is a mischievous 8-year-old, 16.2-hand Holsteiner warm blood. We have decided to fence our property and build a barn. We have about 2.5 acres to fence for the horses. I am apprehensive because we live one block off a very busy 6-lane highway. I am scared to death that the horses will get out, and I don't want to think about the consequences if they do. I thought about a chain link fence with hot wire to keep them off it, but some people have told me that I shouldn't put horses in chain link fence. I thought about no-climb wire with a top board and a strand of hot wire. I also thought about double fencing, which can get expensive, but I will do that if it is the best solution. Can you give us some recommendations that would give me the most peace of mind? Thanking you in advance for any advice you can give us further.
Suzanne A.
Hi Suzanne,
Thank you so much for your email. Your upcoming project is a large one, but also wonderful. You will truly enjoy walking right out to your horses any time you want. You are definitely on the right track by considering all the safety issues. Your horses are larger and one tends to have more fun than the other. Knowing these traits, I would recommend a tall fence with closer post spacing. As I have said for years, your posts are the backbone of your fence system. Choose a good, strong, pressure treated pine post. Most often a 4" round is used for lines, but if you would like to go with a stronger option, choose a 5" round that is 8' in length. Be sure your posts are 3' into the ground (If you are in sand, let me know, as we should talk a bit more about your installation).
Personally, I like our Flex-Fence due to the break strength options. When hit by the horse, the fence will flex up to 8" and return to its original shape. The polyethylene coating helps to reduce injury to the horse. In the worst cases, a bit of hair may get rubbed away. I would suggest a 4-rail system. If you would like to ensure closer spacing, consider using our coated electric wire between your rails to create a very good containment system for your large horses.
If you feel the need to double fence your farm, you definitely have taken every precaution you possibly can in the event of your horses getting loose. However, if your horses do not challenge a 5' fence by jumping it, I feel you can use the suggested system. Please know, horses can do anything they set their minds to. However, if we provide the best containment possible, we eliminate the chance for an inviting escape.
I would suggest strong gate latches. Also, I would avoid having two pastures with a lane leading to the road. It forms a "shoot" that leads a loose horse away from your farm. If you choose to do two pastures, make sure the lane is gated off and not headed to the road. Rotational grazing is an excellent way to keep your pastures in good shape.
If you prefer the woven wire fence, it will help to keep out predators, as well as containing your horses. I would suggest a top rail of Flex-Fence (longer lasting than board fence and much less maintenance), or a top rail of our electric coated wire.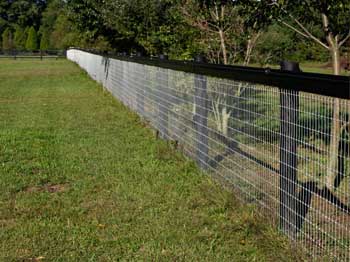 Coated wire, again, has break strength, as well as our wider rail. With electric coated wire, you have the protection of the electric (be sure to keep it turned on at all times), and over 1,800 lbs of break strength per rail.
If you would like further help with your project, just let me know. Talking over your particular situation will be most helpful to you and your final results will be what you want. Again, thank you for emailing us. I hope you have a wonderful homecoming.
Debbie