Back to Ask Debbie Questions »
Tina F.
Dear Debbie,
I am getting ready to put up a three rail 5.25" Flex-Fence. I also purchased electric coated wire. I bought enough to run two strands of wire. Where should I run the coated wire? Do I need two rounds of wire or would just one do the job? Should I run the wire as my first rail? I want to be sure the horses don't chew on the Flex. Please give me your suggestions for installation.
Tina F.
Hi Tina,
Thank you for your good question. Usually if I know the temperament of your horses, or what their pasture habits are like, I can better help you. But, here are some ideas. If your horses are large and lean on the fence, start at the top with the electric. If you're worried about your horses eating grass, put your second electric coated wire under your last rail (most bottom rails run between low to the ground and as far up as 12" from the ground. It's your choice depending on your horses and your needs).
Your second question is in regards to how many strands of coated wire to run. I always say, be on the safe side. Some people run top and bottom, top and at chest level and bottom, or one strand. And, that might work for their horses. Again, the number of strands depends on how much your horses are on your fence, and how much safer you can make your pasture for your horses.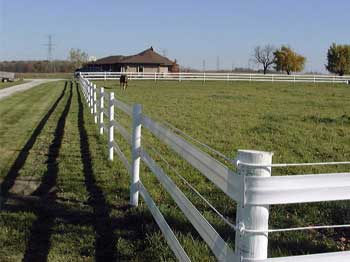 Are you putting your rail to the inside of your posts? This is stronger than on the outside of the post. Or, you can choose to put your rail on the outside of the posts and your electric on the inside. Always be sure your electric fence is on. This may sound silly to say, but there are many horse owners that do not keep the electric on, or check it. A small investment in a fence tester is a great tool for you to have on hand to check your fence.
If you have any other comments or questions, please ask. It is a lot easier to get answers than to have your new fence abused. It sounds like you are on the right track!
Debbie