Back to Ask Debbie Questions »
Yvette Roney
Dear Debbie,
My questions are regarding the electric tape fence. I am part of a neighborhood stable and we currently have 17 paddocks on roughly 4 acres. It's all post and board. There is so much activity over the fences between horses and boards are always getting broken and coming down. I would like to install the electric tape over the top rail all around the perimeter of the fences. The problem I'm having is getting people who know nothing about a stable or horses to approve this. Their primary concern is liability and lawsuits. What if someone passing by comes in contact with the tape? What is the worse case scenario? There are a lot of children that come through the stables. If you can give me any info that would convince these people that it's a safe product, I would appreciate it.
Yvette Roney
Hi Yvette,
Electric Tape is one of the safer fence alternatives you can install. And, it is easily added to existing fence. Electric fencing delivers a "stay away bite" similar to the effect of a horse's bite or kick to establish respect and a pecking order within the herd. With the Pro-Tek Electric Tape product we handle, there has not been one reported injury since it came on the market in 1982. It is very easy to install and only requires simple tools for a hand-tensioned system. I have known many people that do a complete project over a weekend. Most times one or two "amateur" installers can do the job.
To gain the respect of the horses, electric fence does put out a strong charge. If children are involved, it should be explained to them not to touch the fence. Signs can be posted too, indicating that the fence is "hot".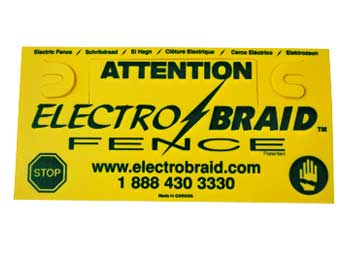 The Pro-Tek tape utilizes a low-impedance charger that generates an interrupted charge. If someone touches the fence, the charge is not continual, allowing the person to let go. Chargers are available in both high and low speed models; the low speed is designed with small animals and children in mind.
In an area with high traffic paddocks, it is important to maintain fencing that will keep horses contained. With small children about, the potential for a serious injury from a loose horse is much greater than any danger posed by electric fencing. However, caution should always be taken with any electric system. Check your local ordinances for liability issues so that you can be sure to get all the facts about using electric fence in your area.
Debbie