Comfort for Your Horses in Pasture – Run-In Sheds and Shelters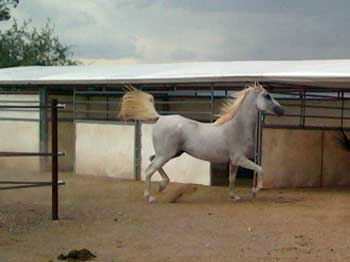 The cold winds are blowing and a storm is on the way. You're at work or unable to get home until later that evening. Wrestling with the fact that your horse is outside in pasture, bit of a panic takes over. First thoughts, call you're friend and then you get answering machine…. "Would you be able to go over to the barn and put Beau in his stall?"
Fear or panic is something that we don't want to have when we think about our horses.
One incident with colic or having a sick horse will make any owner think twice about being sure their horse is out of harms way during a storm. Changing temperatures can be hard on horses; damp cold rain or sleet can make it hard for horses to keep warm. Not to mention the unforgiving sun in the summer. Keeping them in their stalls for what seems to be endless days of threatening weather can be hard on your horses. Is there a good solution?
Run-In sheds or shelters can offer protection from the wind, pelting rain, summer sun and sleet or snow. They can promote good health and well being for your horses and peace of mind for you with out fear of inclement weather ~ especially when you are away from home.
Studies have shown that 100 square feet of shelter per horse is the optimal size for a Run-In shed. A 10' x 20' three sided shed works well for approximately 1-10 horses.Have you watched your horses in pasture when the wind blows? In most cases horses turn their tails to the wind to avoid 'head on' weather. A three-sided shelter can dramatically reduce wind velocity and allow your horses to not have to work as hard at keeping warm.
Not sure where to begin? Run-In Shed and Shelter kits will help you get started with providing your horse protection from the elements. Kits can be purchased with just the frame and hardware, plus, gives you the dimensions needed for metal siding. Or they can be purchased complete with wood kick boards and sides to match your out buildings or home!
Interiors can be lined with wood half way up or to the shed roof. They can be open faced or half-faced depending (depending on your weather) and set up with sliding doors for individual 'stall' sheltering. You can give your horse the choice of being in pasture or inside and sheltered away from the elements.
Most Run-Ins are portable and can be equipped with skis for moving. It is highly recommended to use earth anchors with your Run-In to prevent strong winds from blowing the structure over. So consideration in placement should include avoiding areas such as floodplain, or where natural occurrences can have adverse effects. However, if this should occur, Run-In sheds are ideal because they are easily moved. Windbreaks surrounding your shelter also will help to reduce the effects of chill during cold weather and will further help your horse.
Debbie has over 45 years of experience with horses and equine related businesses. She has owned, trained, boarded horses and run stables at various times in her career. She is a certified fence installer, has given balanced riding lessons and has shown horses in Western, Western Pleasure, Trail, English, Hunter/Jumper, Fox Hunting, Hunt Trials, Dressage and Driving Classes. She has been involve in foaling and just about every aspect of horse ownership. Debbie welcomes your comments, questions or ideas at Debbie@rammfence.com.
RAMM Fence Systems, Inc.makes every effort to provide reliable and useful information on horse health,care and products. The statements made on this website are based on years of experience with horses, however, they are based on generalized situations and should not replace diagnosis or treatment by a veterinarian or consultation by a professional. RAMM Fence Systems, Inc. does not assume any legal responsibility. Readers should always consult qualified health care providers for specific diagnosis and treatment. - See more at: http://www.rammfence.com/resource-center/ramm-articles/life-lessons-with-our-horses#sthash.AJcDPxU0.dpuf