Posting Done the Right Way - Get the Proper Posts for Your Horse Fencing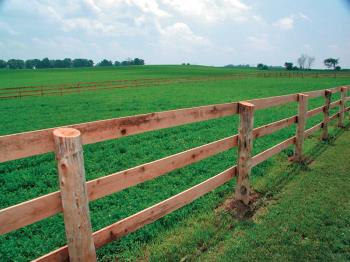 My motto is that, if it looks too good to be true, check and double check before you purchase. The posts for your horse's pasture need to be strong and resistant to wet ground, seasonal elements and hold up with use from your horses. You may think that for the best deal, posts are the way to real savings. However, you could be purchasing a post with a short life expectancy. Landscape timbers and non-treated posts will cost much less than treated, however, resist the temptation to purchase them. The life of landscape posts is so short lived that they may not make it through the second season of their use! Additionally, they are shorter than needed for proper installation with your horses. The rule of thumb for line posts is 3 feet of post in the ground in cold weather regions and 2 feet for warm areas with out heavy frost (keeping at least 4 ½ feet to 5 feet out of the ground).
Beware of better prices for oak or hardwood posts. The pricing may reflect the age of an older post. When posts sit for over a year, they become harder as time goes on. Certainly it would seem better with horses, however, during installation pilot holes may need to be drilled so the wood will accept your nails or screws... multiply that at least 6-8 times per post, for brackets or attachment of the rails, and you just added in a huge amount of labor and time with installation. Instead, choose a pressure treated pine post that is soft enough for nails and screws, but is strong enough for your horse's containment.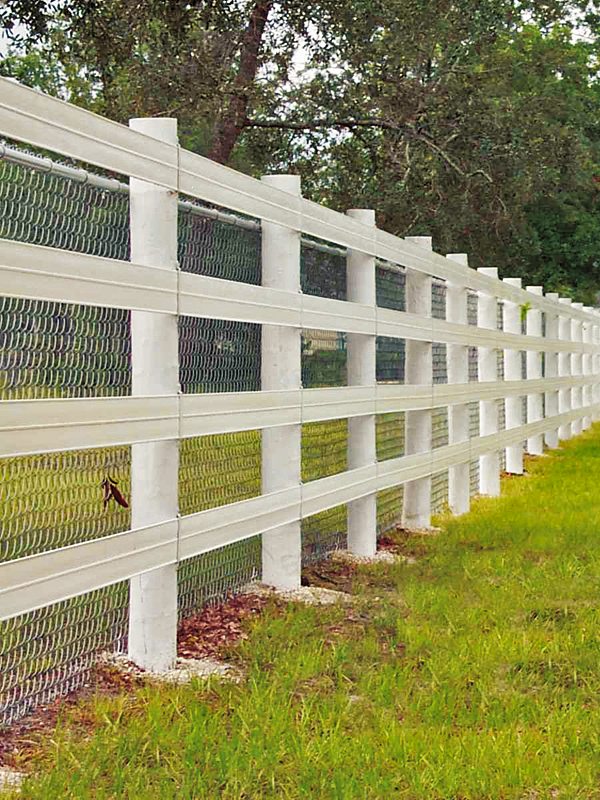 Pressure treating is one of the key points to think about when purchasing posts. Ask if your posts are treated or pressure treated. Treated posts are posts that have been rolled in vats of treatment. Most of the time when the post is treated, it only soaks into the outside of the dry post. Much of the inside of the post is still vulnerable to moisture. Pressure treatment, on the other hand, is a process in which the posts are pressurized dried by creating a vacuum in which it extracts the moisture out of the wood. The treatment is then released and pulled into the post, which goes deep inside to the heartwood or core. The heartwood is the hardest, strongest and most resistant part of the post. A retension level rates different degrees of pressure treatment. The level of retention can be, for example, .40 which means the posts life expectancy is 40 years in the ground, (for any ground contact posts, retension should not be lower than .40). Other ratings can be higher or lower. Tags are most often stapled onto pressure treated posts. You need to pull the tags and keep them with you records in the event that your post shows deterioration.
"Post checking" is when posts split. Checking occurs as a natural process as the post dries out over time. If your post checks, turn it to a side that has no "checking" or cracking and nail to the smooth side. A post that splits into the core is a different case where you should follow up with your supplier.
Red Pine posts are logged in the northern states. They are a softer wood than yellow southern pine. However, both posts work very well for pasture fencing. Prices vary throughout the United States due to the distance that posts are shipped to and from delivery points.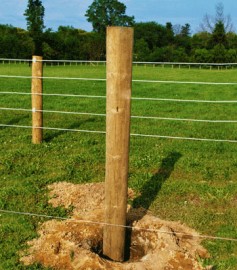 Suggested post sizes for High Impact Flex and Flex Fences are as follows:
6 inches x 9 feet round .60 retension end and corner posts (28 to a bundle)
5 inches x 8 feet round .40 retension brace posts (32 to a bundle)
4 inches x 8 feet round line posts, .40 retension line posts (45 to a bundle).
Once posts are completely dry, you can stain or paint them. Remember to choose a long lasting paint such as Flex Cote from Ramm.
Your posts are the "back bone" of your fence system! They need to last as long as your Flex fence rails do so that you save money and labor. We look forward to answering any of your post and fence questions!
Do your homework and know what you are purchasing. Ask questions and get the best products that will contain your horses for years!
This article was written from a request of a customer, Kim. If you have any subjects that you would like more information on, just let Debbie know. Education is the key to making better choices!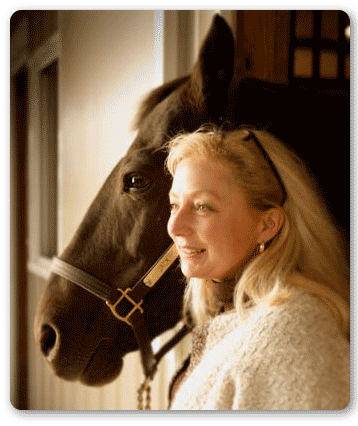 Debbie has over 45 years experience with horses and equine-related businesses. She has owned, trained, boarded horses and run stables at various times in her career. She is a certified fence installer, has given balanced riding lessons, and has shown horses in Western, Western Pleasure, Trail, English, Hunter/Jumper, Fox Hunting, Hunter Trials, Dressage and driving classes. Debbie has been involved in foaling, and just about every aspect of horse ownership possible, and she welcomes your questions and comments. If you are interested in using any articles by Debbie, please send her an email.


RAMM Fence Systems, Inc. makes every effort to provide reliable and useful information on horse health, care and products. The statements made on this website are based on years of experience with horses, however, they are based on generalized situations and should not replace diagnosis or treatment by a veterinarian or consultation by a professional. RAMM Fence Systems, Inc. does not assume any legal responsibility. Readers should always consult qualified health care providers for specific diagnosis and treatment.