Ship​ping Instructions & Terms​
If you have any questions please call 1-800-878-5644
Shipping Notification Email
The morning after your order ships (unless it's Friday then you will receive it Monday) you will receive an email. In that email, you will receive pictures of what your shipment looks like when it departs our facility and what is on the pallet. Please take a look at these pictures so you and/or the person receiving the order, know what to expect when the shipment arrives. Here is an example of what to look for in your email: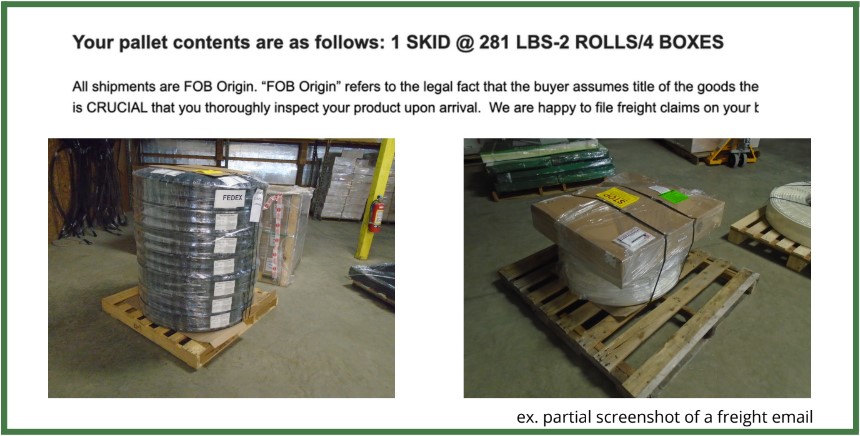 In your email, there will be tracking information so you can track the shipment on its journey to you. It will have the local terminal's phone number and address in case you want to be proactive and set up the appointment yourself.
​
Setting Up An Appointment
The freight company will call you prior to delivery to set up an appointment. They typically ask for a 4-5 hour window frame. Someone over the age of 18 must be there to sign for and offload the shipment. The driver will get the product to the back of the truck but you are responsible for offloading it.
​
What to Expect
All freight deliveries will arrive, in most cases, in a full-size 48 - 53 ft. semi tractor trailer truck, (such as long-haul trucks you might see on the freeway system). It is the customer's responsibility to notify RAMM Horse Fencing & Stalls at the time of order if your delivery location potentially has limited access issues. Additional delivery charges may apply for addresses that are not accessible by a commercial vehicle (such as a long, winding mountain road or gravel road). Should you live on an inaccessible road, you may have to meet the driver in another location or pick up your shipment at the local terminal. If you have a 'limited access' situation you will need to inform RAMM Fence at the time of order to avoid re-delivery fees which will be accessed by the freight company should they attempt delivery and not be able to reach your destination.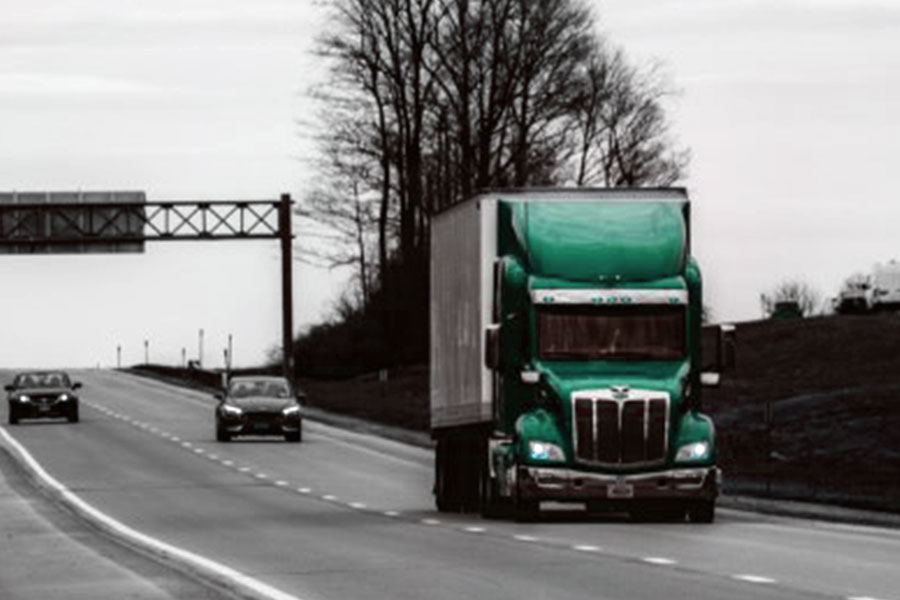 Additional Charges
Any and all additional charges that are not paid for at the time of order, such as change of address, limited access, re-delivery, and storage fees will be the sole responsibility of the customer. Lift gate service may be requested for shipments arriving on a 4'x4' pallet or stall mats. There is an additional charge for this service. Should you decline this service at the time of placing your order but later utilize it at the time of delivery, the cost for that service will be charged to you. Please note that pallets larger than 4'x4' (or 4'x6' in the case of stall mats) cannot fit on a liftgate and will need to be removed using a forklift or a front-end loader with extended forks. (which will need to be provided by you). By accepting delivery you authorize us to charge any additional fees to your credit card on file.
Offloading Options
All shipments of larger items delivered by a common carrier freight will need to be delivered to commercial shipping docks, residential curbsides, or shipping terminals only. Commercial deliveries are made without a call-ahead during usual weekday business hours. Please advise the carrier of any delivery times that must be excluded (such as a lunch hour). A re-delivery charge may be assessed for failed delivery attempts during non-excluded weekday business hours. With residential shipments, the freight company will call you to arrange a delivery date and a time range for the delivery. To avoid storage fees (which will be charged back to you), you are responsible for scheduling delivery within 24 hours of terminal arrival and must accept the delivery within 72 hours following notice of arrival at the local terminal. You may call to make arrangements to pick up your shipment at the local terminal as well.
Though most delivery drivers are quite accommodating, for both commercial and residential deliveries, the receiver is responsible for the removal of the shipment from the bed of the truck and for movement of the shipment beyond curbside delivery. It is important to make arrangements to have any required help for off-loading, as needed, at the time of order delivery (including a forklift if necessary). Lift gate services may be available upon request for an additional charge, but will not be available for product arriving on a pallet larger than 4'x4' (or 4'x6' in the case of stall mats). You will have up to 15 minutes to remove your product from the truck, (depending on the weight of the shipment). If you exceed one hour there may be additional charges due to the freight company policy. For oversize pallets, it is recommended that you have a forklift capable of lifting 5,000# with extended forks to avoid damaging the product. Any damage which occurs during the process of offloading the delivery cannot be reported as freight damage and will be the sole responsibility of the customer.
Liftgate Service
Liftgate service is an extra cost option, available at the time the order is placed. Your order will be placed on the liftgate of the truck and lowered to the ground. The driver will then take your order off the liftgate. Once off the liftgate or delivery truck, the customer assumes responsibility for any further placement or delivery of the equipment.
Inspecting for Damage
Once your order is delivered you will need to check it for any scratches, denting, scuffing, or damage that could possibly have occurred during transit. This does not happen often, but when it does it must be noted on the driver's delivery receipt. If not noted, RAMM cannot file a claim, on your behalf, with the freight company. Once the order leaves RAMM's dock, the order becomes your property.
Compare the photos we send to you of your order before leaving RAMM - to your order when it arrives.

Your order may look just like the photos we send you, however, there could be concealed damage, (that MUST be noted on the delivery receipt), that requires you to check all of your products and boxes.

Remove shrink wrap and cut banding with wire cutters. Remove stacked fencing or stall parts and inspect each part and/or box for any scratching, denting, or damage.

IF you have any questions, call RAMM at 1-800-878-5644, while the driver is there. We can advise you as to the best way to handle your particular situation.
Signing Delivery Receipt
Whoever is signing for your shipment MUST read the freight email and know the following information. BEFORE ANYONE SIGNS the delivering truck driver's delivery receipt & acceptance paperwork, your shipment must be FULLY INSPECTED for ANY damage. Be sure to check under the pallet for concealed damage. You must compare the visual appearance of your shipment to the pictures provided in the freight email. If anything appears to be damaged, you MUST refuse the entire shipment and sign the delivery receipt as DAMAGED / REFUSED.
We are happy to file freight claims on your behalf, but ultimately after it leaves RAMM's dock it is your responsibility to document damage and shortages. IF YOU ACCEPT the shipment with damage, you are accepting the shipment as is and RAMM Fence has no recourse on your behalf with the freight company on getting the damage repaired or replaced.
*Your signature on the delivering carrier's delivery receipt constitutes acceptance of the merchandise as is and in good order.
Examples of Damaged Shipments
This order should be signed as possible damage and missing product. The box is visibly open and the wrap has come off of the pallet. If this is superficial damage, you do not need to refuse the shipment. Please send photos of the damage to RAMM.
This order should be signed as visible damage. If the product is not damaged on the pallet you do not need to refuse the shipment but you do need to contact RAMM with photos.
This order should be refused as damaged. Pallets should NEVER be stacked on top of each other. The stalls on this order have clearly shifted across the pallet and when viewed closely the stalls are scratched. If you see damage like this DO NOT sign the delivery receipt, or paperwork, and refuse the shipment as damaged. You MUST take photos of how it arrived and call RAMM to let us know so we can start the paperwork with the carrier.
Accepting Damaged Shipments
Damage and short shipments are very unusual, but they can occur. Again, it is VERY IMPORTANT that you fully inspect all items at the time they are received for any shortage and/or damage. Note any product shipment shortage, container, or item damage on the delivery receipt before signing it and allowing the truck to depart. This means opening the box and/or unwrapping the item(s) if necessary to ensure there is no damage. Whenever possible, take pictures of the damaged product both on and off the truck to assist in filing the freight claim. Damaged product(s) must be held by the customer, as the freight company has the right to inspect any items for which damage is being claimed. If the shipped goods are damaged beyond your wish to accept them, you will need to refuse the pallet of damaged goods and sign the delivery receipt as "DAMAGED/REFUSED". Please indicate the number of pallets refused and call RAMM at 1-800-878-5644 with damage details as soon as possible. The damaged pallet will then be returned to RAMM for inspection.
This will expedite the replacement of any damaged product(s) while allowing you to still receive any pallets that did arrive safely. Once reported in this manner, any shortages and/or damaged items are the sole responsibility of the carrier. If the concealed damage is discovered following delivery, it should be reported to RAMM immediately. However, without proper notation on the delivery receipt, shortages and damaged items become the sole responsibility of the customer; you are accepting the shipment as is. This means RAMM has no recourse on your behalf with the freight carrier to have any damage repaired or to have any product(s) replaced.
In the event of shortage and/or damage, our customer service team will be happy to assist you in filing a claim on your behalf providing that the shortage and/or damage has been fully and properly noted on the delivery receipt or when concealed damage has been reported within 24 hours of delivery.
Credit for or replacement of properly reported damaged items will be provided without additional cost and will be processed as quickly as possible. We will also be happy to assist in cases where shortage and/or damage has NOT been noted on the delivery receipt. However, when this occurs, as noted above, shortages and damaged items become the sole responsibility of the customer, and the freight company may offer little to no credit for the claim. In these cases, RAMM Horse Fencing & Stalls cannot guarantee credit or replacement of damaged items without additional cost.
​
If you have any questions please call 1-800-878-5644
​