Boarding as a Business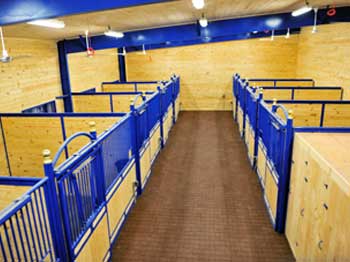 What type of discipline or breeds of horses do you want to attract to your facility?
You may have an abundance of horse owners, horse shows, or clubs in your area. These groups may be geared towards one discipline or breed. It could be an advantage for you to offer a facility that will be set up for a particular discipline (western, hunter-jumper, dressage, saddle seat, etc.), or you may want to accommodate a number of different horses and disciplines. By equipping your facility with the necessary schooling tools, your facility will set itself apart from others.
Are you ready to do repairs on your horse stalls and facilities?
High traffic areas will need to be checked for abuse or damage and repaired regularly. The longer you let repairs go, the more time and money will need to be invested in the repair. Stall mats, post edging, and electric fencing are all optional for a barn. However, with a boarding facility, they help to make your barn safer and help to keep repairs to a minimum.
Will you have a DIY (Do-It-Yourself) barn or a catering barn?
If you choose to be a catering barn vs. an owner ''do-it-yourself'' barn be prepared to offer blanketing to horses (winter rugs and summer sheets), masking for horses in the summer, spraying horses with fly spray, giving supplements or preparing supplement doses, grooming, special turnout, holding horses for farriers and vet checks, exercising horses, putting on or taking off bell boots or wraps, cooling horses, or taking care of other special needs. These options require the boarding barn owner to have the necessary help on a schedule that accommodates your boarders. Some farm owners may choose to just offer board, feed and turnout. In this case, based on the number of boarders at the barn, traffic in and out of the facility may be increased. Horse owners will have to set up appointments with their own vets, farriers, and trainers. Parking is a big consideration too. A larger parking area will be able to accommodate larger trucks, cars and rigs that come to the facility. It is less frustrating to your boarders and helps to avoid accidents.
Your turnout areas, horse stalls, and your indoor and outdoor riding areas are crucial to boarders.
These areas are your calling card to your boarder and need to be in tip-top shape. Stalls need to be roomy and clean. Fresh water and good quality hay and grain are the basis for good business. Riding areas should be clearly marked, and any rules on riding times need to be outlined prior to the boarder coming to your facility. If hard hats or other safety measures are required, they should be posted in your barn where everyone can easily see them.
With your horse stalls and boarding, it's important to say what's included with your boarding fees.
This is important. Even the best communication can be misunderstood, so make sure your boarders are clear as to what the boarding fee includes. If you are a first time boarding facility, it is important to establish yourself as consistent with what you will provide your boarders. Hay and grain prices can fluctuate from year to year, so consider fees that can handle the increases without having to frequently adjust. Frequent board increases can make boarders nervous and can hurt occupancy in your barn.
What are the operating hours of your horse stalls and barn?
Posting barn hours allows you and your barn helpers to do necessary feeding and cleaning without all of the traffic. This helps the work to get done more efficiently and keeps overhead to a minimum. Some facilities post hours and lock the barn, allowing boarders to have keys for after hours. Other facilities are open all the time. The choice is one to consider.
Can boarders bring dogs and other pets to your horse stalls and barn?
Many horse owners have dogs that they like to take to the barn with them. You may want to think about the consequences of this issue. If several dogs come to the facility, they may not get along. Additionally, they may get under foot of a horse or a boarder and accidents can occur. Dogs left in cars create another issue. If the weather permits, windows may be left down and the trustworthy "guard" may bark continually, warding off all of the invaders around the barn. In warmer weather, pets should not be left in vehicles. Additional clean up from pets is involved. Planters, sidewalks and even tack rooms can become areas where you don't want to have to clean up "surprises" that pets may leave.
What about small children?
Small children, whether riders or non-riders, should be supervised at all times by an adult. Too many barns become easy places for children to play unattended. Designated playground areas that are fenced work well for small children. Always be sure boarders know what the rules are with children. It is for their safety, as well as yours. Check the laws in your area for injury or theft liability, and let your boarders know the laws. You may provide a locked tack room, but boarders may opt to take their tack with them when they leave.
Be sure your horse stalls and barn have adequate insurance coverage.
It is in your best interest to have insurance. Even when you least expect the need for insurance, the protection will be worth the policy. Smaller barn owners may feel they do not need the coverage, but in the unfortunate event of fire, theft, or injury, it is imperative.
With overhead, don't forget to estimate equipment maintenance costs.
Repairs and maintenance for tractors, manure spreaders, even stall pickers and shovels, all add up. By putting large equipment on a schedule, maintenance will not be forgotten. Be sure to budget in expenses of diesel, gas, and oil.
What about horse trainers, barn managers or barn management software?
Trainers and barn managers all require your focused attention during interviews. References from several farms are important. Before hiring, be sure to communicate your expectations of the trainer or manager. Putting these things on paper is a good checklist for the person you hire, as well a good reference to keep up with the tasks they have taken on. You may want to have a "one day (or longer) trial" to see if the person will be a good fit at your barn. If you choose to stay away from hiring, you may want to invest into a farm management software program. Again, don't forget to add this expense to your overhead.
Don't forget that some damage happens from barn help.
As careful as we all can be, some damage will occur. Be sure to budget for potential hidden costs relating to repairing barns and equipment.
Decide where you will have trailer storage.
This will be important to your boarders and keep the trailers together in one area. Boarders may need to be instructed that when trailers are cleaned out, manure, straw, hay, and sawdust go to a designated area.
Will you request a notice of leaving?
This will help you advertise the empty stall, or will enable you to have the next person on your waiting list ready to come to the barn.
What about storage areas for tack trunks?
Trunks can take up a lot of space. You may designate the size of the trunk allowed. Some barns have wide aisles that allow trunks, but in smaller barns they can be a hazard. Optional "bins" on a tack room wall can help this problem, allowing only enough room for needed brushes, blankets, wraps, etc. It 's something that should be discussed with the boarder before they arrive with the tack trunk that is the largest you've ever seen.
Consider having a community board for your horse stalls and barn.
Boarders can leave notes or info that can be updated weekly.
Get all the information from the boarder before they arrive.
Vet and emergency numbers, vaccine records, farrier and equine dentist's phone numbers, as well as any addresses needed are crucial. If you provide one vet or one farrier for the whole barn, be sure a schedule is given to the boarder with the understanding of the prices that are charged. Billing needs to be set with the boarder, normally once a month. Boarding can be a rewarding business. Be sure to review all costs, both obvious and hidden. Charge rates that are appropriate to your services. Set your rules in place and adhere to them to make your barn a safe and valued facility. If you have any questions or comments regarding your boarding experience, please let us know.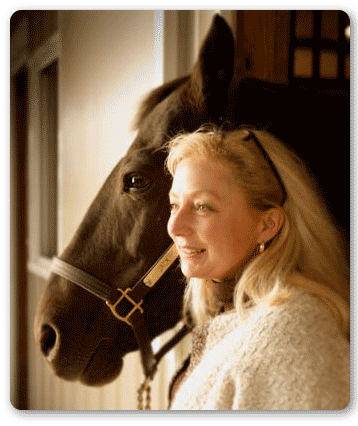 Debbie has over 45 years experience with horses and equine-related businesses. She has owned, trained, boarded horses and run stables at various times in her career. She is a certified fence installer, has given balanced riding lessons, and has shown horses in Western, Western Pleasure, Trail, English, Hunter/Jumper, Fox Hunting, Hunter Trials, Dressage and driving classes. Debbie has been involved in foaling, and just about every aspect of horse ownership possible, and she welcomes your questions and comments. If you are interested in using any articles by Debbie, please send her an email.
RAMM Fence Systems, Inc. makes every effort to provide reliable and useful information on horse health, care and products. The statements made on this website are based on years of experience with horses, however, they are based on generalized situations and should not replace diagnosis or treatment by a veterinarian or consultation by a professional. RAMM Fence Systems, Inc. does not assume any legal responsibility. Readers should always consult qualified health care providers for specific diagnosis and treatment.