Choosing the Right Fence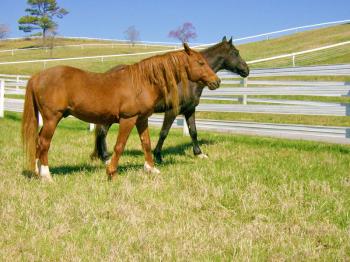 Choosing the right fence is a little like choosing the right bridle. We want it to be functional, durable, and fit our budget. Of course, we also want it to look beautiful. Fortunately, we can have it all. This month, I share some of the choices available to you and where they work best.
Let's start with tensioned fence systems. They've been on the market here in the United States for several decades. Originally used in Italy in the 1950's, tensioned fence systems revolutionized the horse fence industry. But those early versions of Polymer Tensioned Fences were difficult to install and required at least two people for installation. Due to the wire and rail design, tremendous torque was required to get the fence taut, but that tension would eventually pull the corner posts out of place. Today's designs eliminate those problems.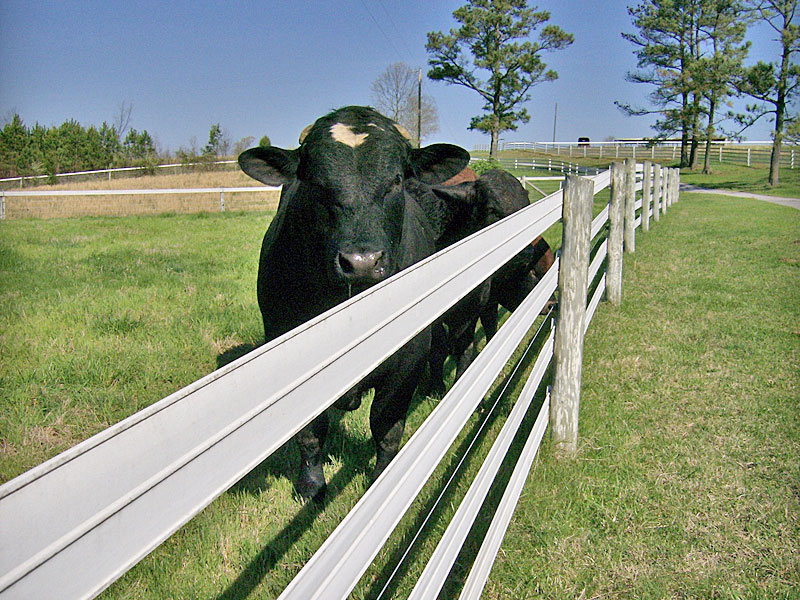 High Impact Flex Fence series, offered exclusively by Ramm Fencing, boasts innovative hardware so it can be installed with a lot less tension, and that means less torque on those corner posts. Other problems like 'stress lines' (white creases in the rail) are a thing of the past with our new kinder bracketing design. Then we added a double-coated interior wire (more durable than conventional galvanized wire) and finished with heavy duty polymer rails. We saturated the rails with UV and mold-inhibitors, ensuring maximum protection from the elements. This means our rails are practically maintenance free (never need painting) and flex up to six inches on impact. That is infinitely kinder to both horse and rider. Best yet, our fence can be installed by one or two people.
High Impact Flex Fencing offers the look of board fencing without the maintenance and it easily follows the curves and contours of your landscape. High Impact flex fence rolls, (up to 660') come in different widths (5", 4", 1" and coated wire) to create any combination of fence.
Combination fence rail systems are just that; a combination of rails of any width to create the fence you need. Spaces between rails can be custom designed to fit your horse's particular needs. Nursery or foal paddocks will be designed with close-set rails at the bottom, widening out as the we get to the top. A 6' fence would be appropriate for a stallion owner, while a miniature horse paddock might look quite different. You can use any combination of wire, electric, or flex fence to fit your needs, but talk to your fence company to be sure your plans are safe for your horse.
| | | |
| --- | --- | --- |
| | | |
| Combination Fence | Electric Fence | Mesh Fence |

Electric fences offer a good way to protect an existing fence system. If you've got horses that love to lean, chew, or test their boundaries, you'll want to back up your fence with a string or two of electric. Providing the fence is functioning correctly, the electric fence is easily understood by horses. It's similar to a bite or kick they'd get from a horse higher in the pecking order. Choices include coated high tensile wire, mesh, rope, and braid varieties. Use them to keep horses off the fence, to reinforce existing fences, or to add between rails to keep horses from putting their heads through or under rails. For safety's sake we don't recommend electric fences as the primary boundary, especially as a perimeter fence.
Mesh fences do a good job at keeping predators out. They're good for both large and small horses, and exotics like llamas, alpacas, ratite and camels. Taller wire fences are good to keep other animals, like deer and elk out of yards and orchards. They're also a safer option for children and pets.
PVC fences are both beautiful and decorative as perimeter fencing, driveways, or riding arenas. They offer the white board look we love, but don't have the break strength of the High Impact Flex Fence. We recommend using electric with PVC if you're using it for containing animals.
Wood board fence offers a traditional look, but it also requires 'traditional maintenance'! Wood will shrink, warp, crack and require a lot of upkeep. Though initially less expensive than fencing designed for horses, you'll have to invest time and money to keep it looking good. It's estimated that over a 10 year period, a board fence will cost more than one and a half times the cost of fencing made for horses. The average life expectancy of a wood board fence is 10 to 15 years versus our High Impact Flex Plus fence that comes with a lifetime warranty.
| | |
| --- | --- |
| | |
| PVC Fence | Wood Board Fence |
The take home message? Fencing represents a significant capital investment. It deserves at least as much planning and thought as we put into our barns. Sometimes the choices are tough, but let fencing experts at Ramm Horse Fencing and Stalls answer your questions and give you safer alternatives for your horses. Give us a call and we'll help you decide on what's best for you and your horses.
Debbie Disbrow and freelance writer Karen Baril (www.karenbaril.com) have teamed up to write this article. If you have any comments, questions or ideas, we welcome them. Email us debbie@rammfence.com