Finding the Right Help for Your Barn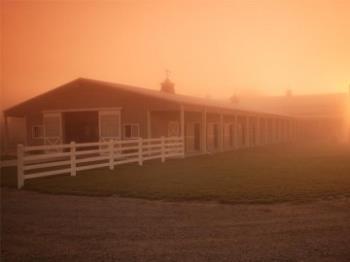 If you are like me, you work a job, have interests in many areas and most of all, love your horses. Occasionally, at this busy pace, we find that we may need a bit of help in the barn. When faced with trying to find someone who will care for your horses the same as you do, how do you find a person who will meet your standards? Finding someone to help at the barn can be a daunting challenge. However, through a good interviewing procedure, being organized, and using good training skills, you can find good help.
To begin finding help for your barn, you may need to put an ad in your local newspaper or local horse paper.
Word of mouth may be your best resource if you are in an area that has many horses, or perhaps you can send a group email to people you know that would be interested, or would know of someone who is. Be prepared to get calls and even people knocking on your door. You may want to pre-plan and advertise with your phone number, (be sure to have an answering machine so you don't miss any calls), or ask to be contacted through an email address, AND ask them to include a resume. That way you can take time to review the candidates when you have time. In your ad, you can be more specific with the description of the job and applicant requirements. Doing that will help to eliminate some candidates that may not even fit the position. For example, instead of saying "Looking for help at my barn, must love horses," be more specific, "Barn help wanted. Only experienced horse person with references, please". Or "Barn help needed. Must be experienced horse person with dependable transportation. Work hours 8:30 - 10:30 A.M, 5:00-6 P.M.". This would give the candidate the hours required and also help eliminate any calls from people who cannot work at those times. The idea is to put enough information in the ad so that only the most qualified candidates reply. Once you have completed your ad, be prepared to review resumes. Thoroughbred Times has a nice article where they remind you to keep in mind that "quality help does not necessarily mean expensive help."
When looking at candidates for barn help, look for tell-tale signs of qualities that you are looking for as well as ones that you don't want.
When you see 'Have had horses', 'worked on a farm', 'love animals', or 'want to learn', be sure you clarify the meaning of such statements. These individuals may mean well, however, when you discover that a relative had horses and they used to visit the farm, they have small animals and love them, or just wanted to be around horses - you may be headed in the wrong direction! Look for positive statements such as 'Worked at Haverdown Farms for 4 years', 'did daily turnout, stall cleaning and exercising', these would be much stronger statements to follow up on.
Once you have decided on the barn help candidates that you feel would fit your criteria, your next step will be interviewing.
*Be prepared, during the interim, to get calls from recipients that want to know if they will be getting an interview or job. If they do not meet your job requirements, be sure to be ready to let them know in a positive yet encouraging manner that they are not the candidate that you, in particular, are wanting to have working at your farm. This is not only good business, but you never know if this person would be able to help you (or someone that you know) down the road with different requirements.* Decide what interviewing process you feel most comfortable with. You may consider having a preliminary phone interview, moving to a face to face interview, and lastly having a 'trial run' of some of the jobs that your looking to have done in your barn even before you hire. Decide ahead of time as to how in-depth you would like the interview to be and the interview-hiring process will go much smoother for you!
Once you feel that you have narrowed down your choice to one or two people, you may also want to have them work with you side by side and then watch the candidate(s) do the barn help jobs themselves.
That way you're assured that they fully understand the tasks at hand. Another helpful tool is to write down exactly what you would like done during the time that they are working, with approximate times that you expect the tasks to be completed. Newly hired help very often appreciate a check-off list that they can use on a daily basis. You then can review the performance on a regular basis. This eliminates any 'guessing' on their part and gives you the ability to be totally clear with what you need done. As time goes on, you will also see if they do only what is expected, less than expected, or even exceeds the every day chore list. This way you can also give appropriate thanks that means so much to someone that truly wants to do an above-average job!
Plan to spend some time watching the person that you have hired for your barn help position.
Also spot checking as time goes on. If you cannot be at your barn when the helper is there, see if a friend can drop by just to make sure things are done properly. Use your best judgment regarding your horses. One accident or gate left open can be disastrous, so be sure that the person that you choose to work with your horses is not only qualified, but remains consistent in doing a good job!
Looking for good experienced help may take a bit of time and may be a real learning experience. A small bit of planning on your part will save you a lot of time, in the long run, for finding the right person to help you at your barn! Have a great month! Enjoy your horses.
Debbie has over 45 years experience with horses and equine-related businesses. She has owned, trained, boarded horses and run stables at various times in her career. She is a certified fence installer, has given balanced riding lessons, and has shown horses in Western, Western Pleasure, Trail, English, Hunter/Jumper, Fox Hunting, Hunter Trials, Dressage and driving classes. Debbie has been involved in foaling, and just about every aspect of horse ownership possible, and she welcomes your questions and comments . If you are interested in using any articles by Debbie, please send her an email.
RAMM Fence Systems, Inc. makes every effort to provide reliable and useful information on horse health, care and products. The statements made on this website are based on years of experience with horses, however, they are based on generalized situations and should not replace diagnosis or treatment by a veterinarian or consultation by a professional. RAMM Fence Systems, Inc. does not assume any legal responsibility. Readers should always consult qualified health care providers for specific diagnosis and treatment.