Get Your Fence, Stalls, and Barn Ready Before Winter Arrives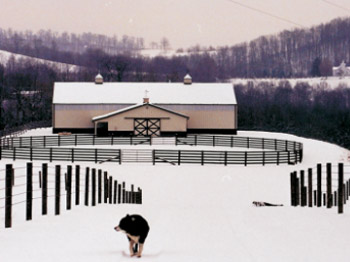 It's that time of the year again! The signs are in the air and cooler weather is just around the corner! So it is time to do your annual Fence, Stall and Barn 'check!''


Let's start with walking your fence lines, or you can ride them too! Be sure to look for anything that is loose or not in good order. Any rails that need to be replaced or adjusted should be done now. Waiting only makes repair harder in adverse weather. Additionally, you want your horse fence to be as safe as it can be to avoid any problems or injury to your horses. Straighten any posts that are leaning. Tamp around posts with dirt or screenings to be sure they stay secure. If your horses have the tendency to get "through" your rail spacing, consider a rail of simple and easy to install electric or electric coated wire or 1" rail. They are easy to install and will make the rail spacing less inviting to horses when winter grass loses its color and protein content. Also, if needed, throw your horses extra hay. Grass hay in the winter allows your horses to still graze, as horses are grazing animals. This will also help to stop your horses from pawing for roots, which can cause sand colic. Eventually, as winter moves closer, the grass on the other side of the fence starts to look better than the grass inside your pasture. Feeding some extra hay will stop your horse from eating grass on the other side of the line. This will not only stop the abuse to your fence, but also save you money from costly repairs and maintenance. Abuse can also be stopped with electric fencing.
Electric Fence 'Check List'
To keep your electric fence in tip-top shape, be sure that all fence lines are clear of any overgrown grass or weeds. Cut these down, especially before winter, as snow can accumulate faster when it falls on tall grasses and weeds, causing your fence to 'short' out. Be sure that your underground burial wire connects to the top of your fence and then goes DOWN your post to connect to each rail. Then, if your bottom rail shorts out, it won't take out all of your rails! ?Make sure you check all insulators to be sure they are not broken and are in good order. Check all connections to be sure that they are secure. A fence tester is a very good and inexpensive tool to have to be sure your fence is running at its peak! If you are trouble shooting, and your fence is not 'hot', try unhooking the positive lead to your charger and actually check it. Sometimes we forget to check the obvious! If your charger is working, test each rail individually and that way you can narrow down the problem.
Look at your gates.
Gate maintenance is a must because ground does move from frost to thaw, from heat, as well as from use. If your gate is leaning, the gate post may be leaning too. If it is, straighten the post and re-brace it. Heavy and sagging gates can benefit from the use of a gate wheel. They will support the weight of the gate, helping to keep longer and heavier gates from sagging. If your brace post is not leaning, you may need to adjust the gate hangers to lengthen or shorten the distance between your gate and your latch post.
Remember to check your gate latches. If they are not working well, get a new one. Even a simple one-handed gate latch will save you the worry of loose horses in winter. Drive home any nails that are protruding anywhere, and replace any cracked posts. If you do not have pressure treated posts, consider replacement posts that are CCA treated with a .40 (or better yet .60) retention level. Your posts will have a 40-year life expectancy (under the ground line, excluding abuse). Moving on to the inside of your barn... let's talk about your horse stalls. Be sure to check for any loose or splintered boards. Remove and replace them before an accident happens. It is a much less inexpensive choice than to have one vet bill! Be sure to check your stall components for any sharp edges or wear. Stall parts and components can be purchased easily to re-vamp an older stall.
Also, be sure to think about good ventilation in your barn for your horses. If you have solid walls, you may want to consider putting in grilled partitions or windows with grill work. This will allow better air flow, and help to eliminate respiratory problems with your horses. If you have problems with freezing water, consider using a heated water bucket or an insulated bucket. Bucket holders will help make sure that your buckets stay in place. If you want to go a step further, a bucket door allows easy access from your stall aisle. It makes cleaning and filling easier.
How are your stall floors? Are you still cleaning a stall that seems to "bottom out?"
Make your life easier as well as take the strain off of your wallet! When you invest in stall mats or a mattress system, you save both time and money!
First and foremost, you give your horse a level and cushioned floor to stand on. Imagine standing on an uneven floor for even a few hours...you know that something in your back or legs will be a bit sore! Same thing for a horse. Then try laying down on uneven ground, once again, a sore area - you get the idea. The mat will also help to keep your horse off of damp and cold ground.
Mucking is a snap! Find the wet spots and scoop them up, then... you know the rest! You don't have to use as much bedding because it won't be mixed into your stall base. Additionally, when your un-matted stalls start to bottom out, you don't have to fill a 'hole' with shavings. Happy Horse, Happy You!
The Ultimate in stall mat systems is a mattress system. ThuroBed's give your horse all the above, plus a cushion that literally makes them lay down and rest! It's so inviting that horses truly tend to have "nap time" and attitudes change for the better. The mattress system is made of sewn cells that are filled with shredded rubber. A one piece cover goes over the top!
With proper installation, your stall is level, cushioned, and dampness will not penetrate the cover! So no more cleaning under your stall mats! They are excellent for any horse, especially for working horses, horses on stall rest, or older horses.
Do you have an indoor? We "Winter Warrior Riders" all like to ride in "someone's" indoor arena throughout the winter if you live in the cold-winter states. If the indoor that you ride in becomes dusty, you need to be aware of the dangers of dust and the respiratory systems of your horse! Two easy solutions!
Keep the arena 'conditioned' with a track and ring conditioner.
It's easy to attach it to your tractor's PTO, or consider using a smaller 'pull behind' version of the track and ring conditioner with a garden tractor. It will not only level your surface, but the tines will turn your footing over, creating a light and fluffy footing.
Additionally, put a dust down product on that footing, such as Terra Sorb, and your indoor will be dust free!
The most perfect ride you will have in inclement weather!
Take a bit of time to check your fence, stalls, and barn interior. Make those necessary repairs before the winds stir and the snow flies! Whether you're in your warm home, or out in your barn to do chores or ride, you will be able to have peace of mind knowing that your equine friends are secure, safe, and ready for winter!
Enjoy the autumn colors - laugh much, ride often!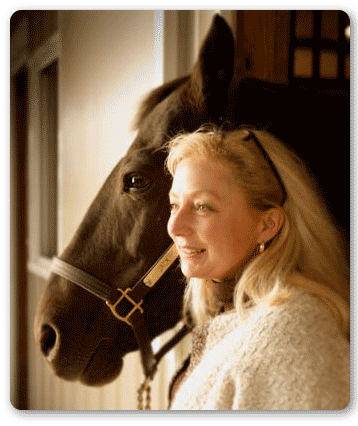 Debbie has over 45 years experience with horses and equine-related businesses. She has owned, trained, boarded horses and run stables at various times in her career. She is a certified fence installer, has given balanced riding lessons, and has shown horses in Western, Western Pleasure, Trail, English, Hunter/Jumper, Fox Hunting, Hunter Trials, Dressage and driving classes. Debbie has been involved in foaling, and just about every aspect of horse ownership possible, and she welcomes your questions and comments. If you are interested in using any articles by Debbie, please send her an email.
RAMM Fence Systems, Inc. makes every effort to provide reliable and useful information on horse health, care and products. The statements made on this website are based on years of experience with horses, however, they are based on generalized situations and should not replace diagnosis or treatment by a veterinarian or consultation by a professional. RAMM Fence Systems, Inc. does not assume any legal responsibility. Readers should always consult qualified health care providers for specific diagnosis and treatment.