Gingerbread and Cocoa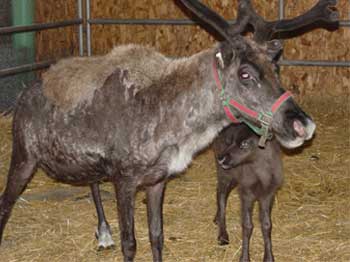 Debbie Disbrow recently talked with this Mystery Reporter about two of the most unusual animals on her farm - her pair of reindeer! This is her interview.
MR: Hi Debbie. Let's talk a bit about your reindeer. They always seem to be having such a good time. What are their names?
DD
: Gingerbread and Cocoa.
MR: How did you name them?
DD
: Gingerbread was already named when we got her; Cocoa was born here. We felt that everyone wants Cocoa with their Gingerbread, that's how we came up with it!
MR: Where did they come from?
DD
: The deer were originally born in New York. They were at the
Cincinnati Zoo
and on display when we purchased them. Our deer were 'possibly expecting.' With reindeer, the herds need to be left alone to breed; they are 'private,' so we were not sure if we had a baby on the way!
MR: Do you know their lineage? Does it go back to the North Pole? (laughs)
DD
: I believe it must have started at the North Pole - why else would our reindeer today talk so much about their grandparents helping Santa? (laughs) But really, the Tundra is where most of our reindeer originate from.
MR: How old are they?
DD: Gingerbread is about 10 and Cocoa is 4.
MR: How much do they weigh?
DD
: I'm guessing, but about 250 lbs. Our vet was just here and suggested that weight for worming purposes. We worm them just like the horses, however we do not use Ivermectin.
MR: How or why did you decide to get reindeer?
DD
: This is such a funny story! In our area, a pot-belly pig was roaming and no one could catch him, or knew where he was from. We live near a golf course and the little pig was seen by many golfers as well - and the home owners around the golf course were shocked to look out their windows and see a pig. We were in the process of building our barn and just had completed our indoor arena, this was in December. All the doors in the barn and indoor were closed. My son went out to the barn and called me to say we had a pig in the indoor! I said, "Are you sure its not a big dog or something other than a pig?" He told me to come out and see for myself.....well he was right, it was a little pig and we had no idea how it got in! So I told him to put it into a stall until we could find his home! Well, later we heard about the stories of the little pig running all around. We ended up keeping the little guy (we were worried that he might fall into the wrong hands, we have a lot of hunters in this area) - and my daughters fell in love with him..... So when I told my husband Mike about the incident, I said "All these years I have prayed for a reindeer for Christmas, and instead I got a pot-belly pig!". Well, Christmas Eve we went to visit family and just before dinner my husband gave me a letter. I opened it up and it said, " Your reindeer cannot be at your farm for Christmas because they have work to do at the North Pole until the first of January, but they will be delivered to you soon!" I could not believe that I was getting reindeer for Christmas! Needless to say, the girls arrived about January 10th, a man with a white beard brought them and he said his name was "Santa"..... Reindeer and a pot-belly pig that ended up permanently at our home! That's the story!
MR: That is the greatest story! Wow! Okay. Let's talk about a key issue with any pet: Are they expensive to keep and feed?
DD
: They require only water and we feed beet pulp and pellets. We also give them some hay as well as some apples. We have to be careful to not let them roam because they could become fatally sick from other white tail deer, sheep or other animals due to a parasite that other animals can carry. We fabricated a very tall pipe fence with wire panels to enclose and protect them.
MR: Do they have a special diet? Food they eat? Favorite treats?
DD
: Well, I already talked about that a bit, but here's something funny: When they eat they move their lips really fast and make a sound with them, and it sounds so sweet! Also, they look like they have lipstick on their lips! They have to put their heads up to see it, but it looks like they put their "lips on" and it's precious!
MR: Do they like a particular environment?
DD
: Reindeer love the cold weather and to forage for lichens in the wild. Since we have them on the farm, they live in an open barn with an enclosure and can go in and out as they please.
MR: What kind of fun reindeer games do they play?
DD
: They do play reindeer games! We will frequently see them run and jump just before a snow storm. Also they have to get ready to be Santa's 'relief team' so they start getting ready in December!
MR: Do they know Dasher and Blitzen? (laughs)
DD
: Yes. Prancer, Commet, Cupid and Donner, too!
MR: Do they do different things during different seasons?
DD
: Mostly just get a thicker coat in the winter, and grow antlers. They lose their coat in the spring, just like the horses.
MR: Tell me a little bit about the antlers. What do we need to know about those?
DD
: Reindeer are the only deer, besides caribou, that both female and males grow them. The growth starts when the antlers fall off between January - March. Most fall off earlier; however, pregnant mothers or mothers keep them longer to protect their babies. They grow fast! They start like little bumps or 'knuckles' and soon stand up like little sticks. They then start to split and look like 'dog bones!' and then grow. At this time they have a soft velvety brown fur on the antler that will supply the blood needed to grow the antler! They are very careful to not bump it as it can interrupt growth to that spot! As the antler grows they branch out and get thicker. By August the growth stops and they rub off the velvet to reveal the beautiful white antler that they keep until January or later!
MR: How do their personalities differ from horses?
DD
: They are more independent. They do not need or like to be brushed! They can be trained to pull but I have not trained mine. I just enjoy seeing and being around them.
MR: How well do they get along with Santa? (laughs)
DD
: The reindeer and Santa have a good thing going! I keep them here so he can drop off his tired reindeer and our girls are the 'relief team. I have sparkle dust that I use to help them fly all night. Christmas day they are a bit tired and need to rest up. (laughs)
MR: Do they do much traveling? Get out much?
DD
: We keep them mostly on the farm; however, many people with reindeer will rent them for displays at Christmas time.
MR: Do you have any good stories about them?
DD
: Mainly, just how we got them. I have a lot of children come, as well as adults to see them. We also seem to have a lot of picture taking this time of the year!
MR: Any good stories about children seeing them?
DD
: Oh, it's pretty much what I said above. I know the kids that visit with them have stories - but I think they keep them to themselves or only share them with Santa! (laughs)
MR: How unusual are they to have? How rare are they?
DD
: I don't know of too many people that have them. But they are plentiful in the tundra.
MR: How do the other animals react to them?
DD
: At first the horses about fell over when they saw them, now they are used to seeing them. If small animals come to the fence, the reindeer will put their heads down and move their heads from side to side warning to stay away....then they may snort. After that, they just sniff and that's all!
MR: Have they been photographed or have they been on television before?
DD
: We have taken them to our city Town Square before to display them, and the town newspaper, as well as onlookers, have taken photos of them. Our local cable company has shown the Christmas parade and the displayed Reindeer!
MR: Tell me a bit more about their antlers, and how all of that works.
DD
: I keep them. They are so beautiful. They can be used for a number of things. In other countries the inside of a just fallen antler is used for medicinal purposes. They can be made into pens, as well as other decorative items, lamps, tables, etc. I hope to make a chandelier some day with them.
MR: Do they ever talk to you?
DD
: Yes, we talk almost daily! They cannot wait for my granddaughters Ida, and Gretchen to come and visit them when they come to the farm. They are very happy living at our farm because of all the 'action' that goes on with the horses. They like to visit with the other deer through the fence. They say that they love it when the apples are in season from the orchard. All the animals get the apple treats and they like that. They are gearing up for Christmas Eve now, and need to concentrate on getting in good shape for the nights work!
MR: Do you have anything else you'd like to tell us about them?
DD
: Since our satellite office is here at the barn, the employees that work here love to watch what they do and cannot believe it when they lose their velvet or antlers! I feel very privileged to have gotten them for a Christmas present. They are very special to me and I love to watch them. Especially in the cold months, which they love! They also look like they have eye liner on their eyes, very pretty. They make a grunt sound from time to time, but noting other than an occasional "grunt-burp" noise! I know that sounds funny, but it fits them! I have taken their fur that they lose in the spring and have spun it. It is a coarse hair that they lose. The hair is hollow to help them be more buoyant in the water! The song "Up on the Roof Top" refers to "click, click, click" and that is a reference to the reindeer's legs that click. When we first got them I thought they had leg problems, but they are born that way. Their joints click so that they can follow each other in a 'white-out' and not get lost. The babies don't click until they are about a year old to help them to not be found by predators! They are truly unique animals with God given gifts that are amazing!
MR: Debbie, thank you so much for talking to this Mystery Reporter about your wonderful reindeer. Happy Holidays - and Merry Christmas!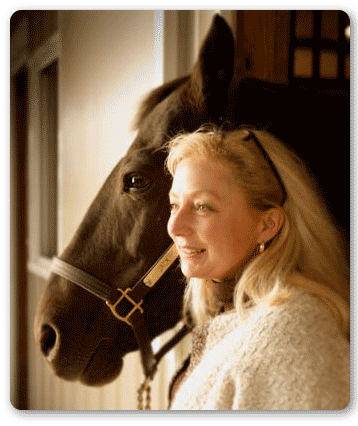 Debbie has over 45 years experience with horses and equine-related businesses. She has owned, trained, boarded horses and run stables at various times in her career. She is a certified fence installer, has given balanced riding lessons, and has shown horses in Western, Western Pleasure, Trail, English, Hunter/Jumper, Fox Hunting, Hunter Trials, Dressage and driving classes. Debbie has been involved in foaling, and just about every aspect of horse ownership possible, and she welcomes your questions and comments. If you are interested in using any articles by Debbie, please send her an email.
RAMM Fence Systems, Inc. makes every effort to provide reliable and useful information on horse health, care and products. The statements made on this website are based on years of experience with horses, however, they are based on generalized situations and should not replace diagnosis or treatment by a veterinarian or consultation by a professional. RAMM Fence Systems, Inc. does not assume any legal responsibility. Readers should always consult qualified health care providers for specific diagnosis and treatment.