Lynn Palm Ride Well Clinic in Bryan, Ohio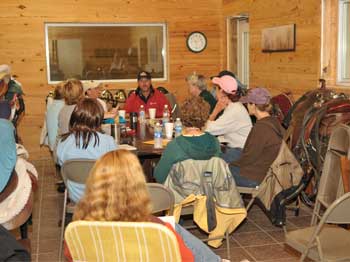 Palm Partnership Training proudly announces the 2009 "RIDE WELL CLINIC TOUR" coming to an area near you!
Join Lynn Palm and Cyril Pittion-Rossillon to take your riding to a new level! Beginner, Youth, Amateur, Pleasure Rider or National Champion! The RIDE WELL CLINICS are a great value for everyone. With a minimum of 18 hours of instruction over 3 days, these clinics are an affordable way to train with two of the best educators in the industry
Lynn Palm and Cyril Pittion-Rossillon will personally evaluate each rider's skills, horse's level of training and proper tack fit. Smaller groups will be formed within the clinic according to each participant's skill level. Small groups will rotate between riding sessions and lecture to give each rider a thorough understanding of the lessons. Clinic participants will learn common sense-achievable, humane, dressage principles for all breeds of horses and all rider disciplines. Lynn and Cyril will follow their successful training methods-improve the horse by improving the rider.
Three of the "RIDE WELL" clinics have been selected for a special 4 day session to include a "Show & Tell Horse Show/Clinic."
Show and Tell is open to the public and to all clinic participants.
Participant enrollment is limited to guarantee personalized instruction. Participants must be able to walk, trot, canter and young and green horses are welcome. Spectators are welcome at all Ride Well Clinic locations.
For more information on the Ride Well Clinics, enrollment and spectator advance ticket specials go to: Lynn Palm's 2009 Ride Well Clinics
2009 RIDE WELL CLINIC Tour Dates
May 23-25 Fountain, CO
July 16-19 Bessemer, MI
July 30-August 2 Bowdoinham, Maine
August 14-16 Ferndale, CA
August 20-23 Dousman, WI
August 28-30 Bryan, OH
October 2-4 Jamestown, TN

October 9-11 Valley Lee, MD
About Lynn Palm
Palm's career highlights include 2007 American Quarter Horse Association (AQHA) Horsewoman of the Year, a record four AQHA Superhorse wins, AQHA Female Equestrian of the Year by the Women's Athletic Association, named one of the top United States clinicians by Horse & Rider magazine, over 34 AQHA World and Reserve World Champions, over 50 bridleless dressage exhibitions at events including the National Horse Show, 1989 World Cup and the 1996 Atlanta Olympic Games, and World Cup. Palm and Cyril Pittion-Rossillon are co-founders of three horse industry companies: Palm Partnership Training, Women LUV Horses, and Alliance Saddlery USA.
About Cyril Pittion-Rossillon
Pittion-Rossillon's career comes to Royal Palm Ranch from Paris, France, where he earned his Riding Master Degree from the French National Equestrian School. His extensive background and experience as a professional equestrian offers an effective and unequaled complement to the equestrian programs offered at Palm Partnership Training. Pittion-Rossillon's teaching accomplishments include: Instructor for six years at Brimborion Equestrian Center, the largest equestrian center in Paris, Co-Founder and Director of School for Training Young Professionals for the First Degree of Riding Instructor, Youth and Amateur coach for AQHA & AHSA competition.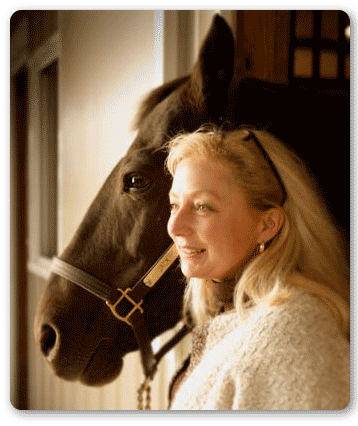 Debbie has over 45 years experience with horses and equine-related businesses. She has owned, trained, boarded horses and run stables at various times in her career. She is a certified fence installer, has given balanced riding lessons, and has shown horses in Western, Western Pleasure, Trail, English, Hunter/Jumper, Fox Hunting, Hunter Trials, Dressage and driving classes. Debbie has been involved in foaling, and just about every aspect of horse ownership possible, and she welcomes your questions and comments. If you are interested in using any articles by Debbie, please send her an email.
RAMM Fence Systems, Inc. makes every effort to provide reliable and useful information on horse health, care and products. The statements made on this website are based on years of experience with horses, however, they are based on generalized situations and should not replace diagnosis or treatment by a veterinarian or consultation by a professional. RAMM Fence Systems, Inc. does not assume any legal responsibility. Readers should always consult qualified health care providers for specific diagnosis and treatment.