Portable Horse Stalls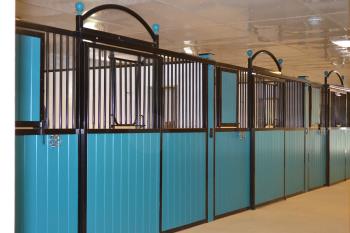 Searching for a free-standing,
portable horse stall
system? We don't like to brag, but our portable stall systems are well-known in the industry for their superior strength, durability, and ease of installation. RAMM's Portable Stall Systems offer a full frame design--that means they can be installed anywhere, in any configuration, without existing support posts. Customers love them for their adaptability to any situation, including clear-span buildings or post-free structures.
We believe RAMM's
Portable stall systems
are unsurpassed in the industry. That's a bold statement---and we don't expect you to take our word for it. As with most products, especially big-ticket items like portable stalls, the only way to determine quality is to pay attention to the details. RAMM has already done that for you, of course, but let's take a look at what the word 'quality' means when it comes to portable stall systems.
You already know that RAMM is a family owned business. We're horse owners just like you so we know how important it is to buy products that are safe for our horses and that promise to be durable. When it comes to portable stalls, we want strength, ease of installation, flexibility in design and configuration, safety, and longevity. What we don't want is a light-weight product that won't stand up to the rigors of the average horse.
And sometimes, we need them to stand up to the 'not-so-average' horse, like Fred, our Percheron. Fred loves to rub his head on his stall walls and scratch his bum on---well---whatever's handy. In Fred's case, that's usually his stall door. No problem. He's safely housed in one of our own portable stalls. I guess, you can say Fred is one of our 'field testers', but our stalls take whatever Fred dishes out. At Ramm, we believe the word 'portable' should never be confused with weak or fragile. In fact, our
portable stalls
are strong enough for any horse. That's because we use 14 gauge steel U-channels for superior strength. Panel welds are "hidden" on the inside of our U-channels for a clean, professional look and to ensure your horse's safety. No sharp burrs for your horse to get hurt on.
Our portable stalls go together easily with
wall mounts and connectors
also constructed of 14 gauge steel. Wall mounts connect stall fronts or partitions to an existing wall and connectors connect two, three, or four
stall fronts
and/or stall partitions together. You do not need an existing wall to connect to. The system is strong enough to remain free-standing. And the connectors allow you to easily re-configure your stall layout down the road as needed.
All stalls are finished with a hot-dipped galvanized process to ensure they'll stay beautiful for many years to come. We recommend 2 x 6' tongue and groove wood, (wood can be purchased locally to save on freight, or from RAMM, upon request) for walls and doors. Easy to follow instructions for cutting and inserting wood will help guide you. You don't need any special tools or skills to put these stalls together. We get great feedback from customers on the ease of installation. How cool is it to have a completed barn in a single weekend at a fraction of the cost of hiring a contractor?
Our portable stalls are so strong and durable, that we recommend them for permanent use. The best use for them is in the clear span building or buildings with no support posts. If you're looking for something truly portable, in other words, stalls that can be easily dismantled, stacked, and moved regularly, check out our Racetrack, Finish-Line, or "fairground" stalls. These stalls are built with the same strength and durability of our portable stalls, With our Racetrack line, we use 'puck board' for walls (included), a lightweight and exceptionally strong alternative to wood. A system of loops and pins for connecting make dismantling and re-installing a breeze. Racetrack, Finish Line or 'fairground' stalls are great for clinics, trade fairs, horse shows, racetracks, and boarding and breeding facilities.
All styles offer plenty door and
feed options
for any situation. Choose time savers like our hinged swing out feed and/or hay doors or even a Lazy Susan feeder option on the door front. One-handed operation door latches make bringing horses in and out easy and safe for both horse and handler.
Check out our
door options
as well. Choose our V-door with yoke for socialization. We like the full grill or mesh bottom doors for good ventilation as well. We also offer half or full swing gate doors - there's a door or feed design to fit any horse or situation!
If you're already a RAMM customer, you know how much we care about the quality, integrity, and longevity of our products. We simply won't offer a product that doesn't't live up to our high standards. We know it's tough to determine quality from a catalogue photo and that's why we offer these informational newsletters to help guide you towards making choices you'll be happy with for years to come. But, no matter what you choose, keep this in mind---a
portable stall
system should offer superior strength (even for those gentle giants), durability, safety, and ease of installation. RAMM's Portable and Racetrack stalls offer all of that-and-best of all, they're beautiful!
Visit our horse stall section
HERE
to view our full line of stalls for your barn.
Debbie Disbrow and freelance writer Karen Baril
(www.karenbaril.com)
have teamed up to write this article. If you have any comments, questions or ideas, we welcome them. Email us
debbie@rammfence.com
.