Preparing Your Barn For Baby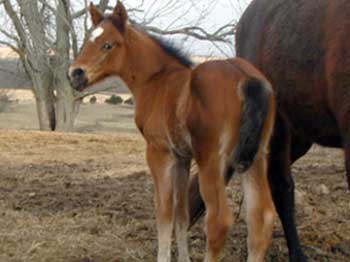 Due dates are an important thing to know, according to Jeannie Strain of Strains' Thoroughbreds in Swanton, OH. Of course, due dates are never set in stone. Many a mare-owner, on going out to feed in the morning, has been greeted with a surprise. However, a due date is a good gauge to go by for making final preparations for the birth.
If you are moving your mare into a foaling stall, put her in at least a week ahead of time to allow her to get used to her new home. Be especially vigilant when checking to make sure there is nothing for the foal to get hung up on in the stall. A gap between boards that a mare may not be able to get a leg through may be wide enough for a baby's spindly legs. The bars in the grillwork should be spaced close enough to prevent a baby from getting his head or a leg caught.
If a wall has been removed to turn two stalls into one big birthing stall, make sure all the edges are smooth. Check for gaps under doors and feel for drafts. Tarps can be hung to prevent drafts. Make sure that any baling twine used to secure the tarp is out of reach so that it doesn't get chewed through or tripped over.
Check your foal monitor to make sure it's working, and have a first-aid kit that has been approved by your veterinarian. Also, make sure you have your vet's phone number handy. Keep a flashlight, extra batteries for the flashlight, your phone and a two-way radio as back up to your phone all on hand.
Have plenty of straw available. Even if you normally use shavings for bedding, use straw for your foaling stall. Straw isn't as dusty as shavings and won't clog a newborn's wet nostrils, says Teresa Angiletta of Angiletta Performance Horses. Teresa is a University of Findlay graduate with degrees in Equine Studies and Equine Business Management. Straw also won't stick to the umbilical cord.
If your baby is coming early in the year, see if your veterinarian wants you to use a heat lamp. A well-ventilated stall may be all that's recommended. If you do use heat lamps, check with an electrician to make sure it is in working order and that your barn's wiring can handle it. If you will be blanketing your baby, make sure the blankets are clean and will fit properly. Foal blankets have many places where their size can be adjusted.
Make sure your stall floor is even and level. Fill in all pits and holes. While some breeders think mats are too slippery for a baby to get a good grip on his first try to stand, a good textured mat made specifically for horses with a deep straw bed will probably be just right. Mats in the aisle allow for good footing there, too.
Clear aisle ways so there's nothing for baby to trip over or run into on his first trip outside. In his paddock, make sure the gates are swinging easily and that the fence is secure. A row of electric in addition to your existing fence is an excellent way to deter baby away from the fence.
Electric fencing is not cruel; it is an effective, non-damaging way to teach a foal to respect his boundaries. Once your baby is sold, you'll have no control over what style of fencing he's kept in. By learning at an early age to respect fencing, that horse is greatly reducing any future risks of fence injuries. Rather to have a baby shocked once or twice to learn to stay back, than to have him break through a fence and run into traffic.
Your fencing is secured, your stall is prepared, and the big day is coming soon. You may want to notify work that you could be late one of these mornings. Have plenty of film in your camera to capture those precious first few moments. Don't forget the coffee and hot cocoa for you, too. It's a big moment coming, and you'll want to be wide-awake and ready to welcome a new life into your barn.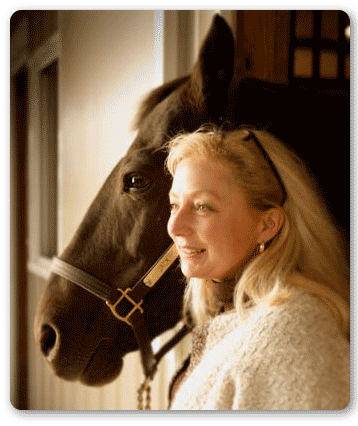 Debbie has over 45 years experience with horses and equine-related businesses. She has owned, trained, boarded horses and run stables at various times in her career. She is a certified fence installer, has given balanced riding lessons, and has shown horses in Western, Western Pleasure, Trail, English, Hunter/Jumper, Fox Hunting, Hunter Trials, Dressage and driving classes. Debbie has been involved in foaling, and just about every aspect of horse ownership possible, and she welcomes your questions and comments . If you are interested in using any articles by Debbie, please send her an email.
RAMM Fence Systems, Inc. makes every effort to provide reliable and useful information on horse health, care and products. The statements made on this website are based on years of experience with horses, however, they are based on generalized situations and should not replace diagnosis or treatment by a veterinarian or consultation by a professional. RAMM Fence Systems, Inc. does not assume any legal responsibility. Readers should always consult qualified health care providers for specific diagnosis and treatment.