Top50 Ranches: The Equine Ambassador for Trips and Vacations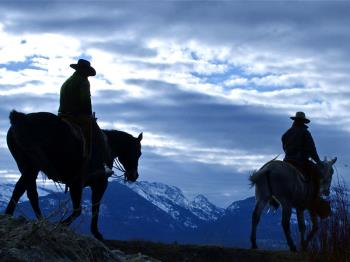 She will show you how to relax on a vacation with your favorite passion, horses!
I read about Top50 Ranches one night when Jody was on #HorseChat. She was talking about all of the ranches that Top50 endorses ~ vacations on horseback across the world! I was able to get in touch with Jody and she filled me in on the wonderful equine 'getaways' that she promotes! I had to find out more and knew instantly that this is something that any horse owner or enthusiast would enjoy!
Top50 was inspired by Jody Dhal whose wish was to establish the ultimate collection of the worlds most premier ranch vacations! And that she did! Feedback from guests and research on hundreds of ranches led Jody to create Top50Ranches.com - a resource for travelers worldwide featuring a select collection of ranches that are founded on hospitality and excellence. Each ranch has met established criteria - all embracing our true Rural Culture; making it easier for guests to find the right defined 'dude ranch' vacation. By the way, I believe that you will be amazed with the variety of these ranches, as well as being able to visit one that totally fits into the discipline that you like or ride!
(FYI ~ Advent Calendar Giveaways! December 1-24, 2011 - Top50 will giveaway a prize every day 'til Christmas! - Ranch vacations up to $1000 and discounts for a stay. Much more to come!)
Since Jody grew up on a ranch you might expect that she currently owns a Montana guest ranch. Therefore, she was fortunate to visit with many guests through the years - these guests became the inspiration for Top50 Ranches. Visiting, interacting with and listening to guests was directly the inspiration - their ideas of the most fabulous ranches and what they'd like to see in a hosting site for those ranches.
Top50 is passionate about showcasing authentic ranch vacations and offering a platform for those fabulous ranches, worldwide - who have the top riding programs and the best customer service - thus making it easier for the guest to choose which one ranch will give them the best 'getaway'. Jody is also passionate about delivering accurate information about each ranch stay - as per guest request!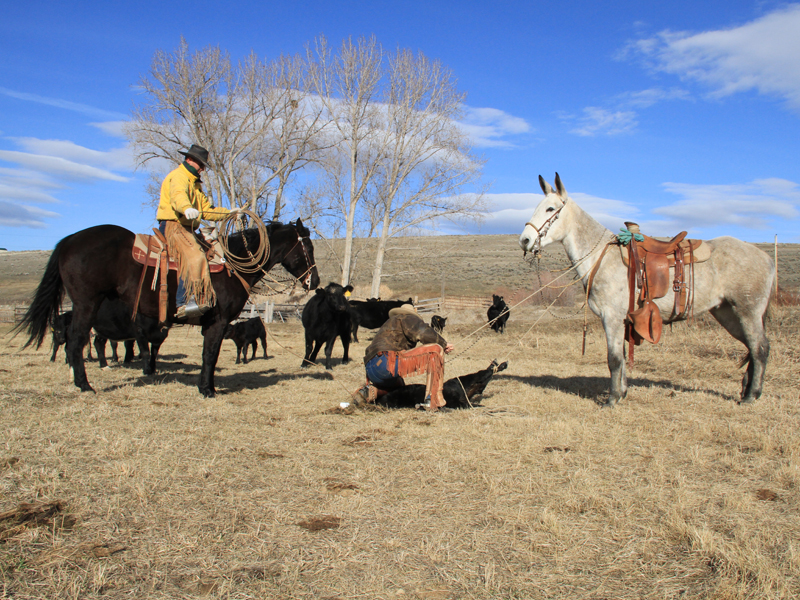 While all ranches accommodate both English and Western riders - and then help them transition to the Western seat and style (and all ranches take the time to first help you successfully transition - they will go over leg pressure, the belief of the release of pressure in western riding, etc!! - we set each guest up for success!), the following ranches have a focus on English Riding!
1) Explore this expansive 18,000-acre high country sheep station by horseback; they pride themselves on personally tailoring to your individual needs. Traverse the hills as you make your way to historic Flecks Hut on one of the full-day options. Personally guided by a station owner, meander through an abundance of native shrubbery, amid beautiful towering beech trees, as you ascend the hills. Then, enjoy divine views of the Southland plains. Awaiting you at Flecks Hut is a hearty lunch, along with a bottle of chilled New Zealand wine. Here, relax and enjoy the peaceful solitude, amidst the vastness of unspoiled tussock landscape. An untamed natural environment of New Zealand for the Beaumont High Country Experience. A good level of fitness is recommended for the backcountry horseback riding over diverse, hilly terrain - whether it's on full-day rides personally guided by a station owner, or week-long remote pack trips through the ranch against the backdrop of the Southland's great mountains, where you'd be forgiven for thinking you'd just stepped into a scene from Lord of the Rings. The also offer cattle and sheep gather!
2) Food and Great horse riding treks at Snowy River Horseback Adventures, Australia - $125/night
For a luxurious taste of what it was like to be the Man From Snowy River, this is the horseback riding adventure for you! Snowy River Horseback Adventures specializes in leading small groups on two- to five-day treks across the snowy river countryside. A highlight of every day is their riding treks and their gourmet picnic luncheons carried by their trusty mule! Salad greens and fresh herbs picked from their extensive "Old Ingebirah" gardens. Locally produced grass-fed beef, smoked trout and Hobbit Farm goats cheese are just a sample of the wonderful local foods used in their menus.
3) Western & English Riding: When you arrive at Echo Valley Ranch & Spa in Western Canada, a member of Small Luxury Hotels of the World (SLH), you'll find many of the features of a guest ranch - horses browsing in the fields, dogs that greet you at the door, wranglers ready to hit the trail with you and your new four-legged friend. But you'll find much more at this Canadian guest ranch. Baan Thai Massage, Golf, ATVs, climbing and much more! Cattle work, wildlife safaris, pack trips, and more!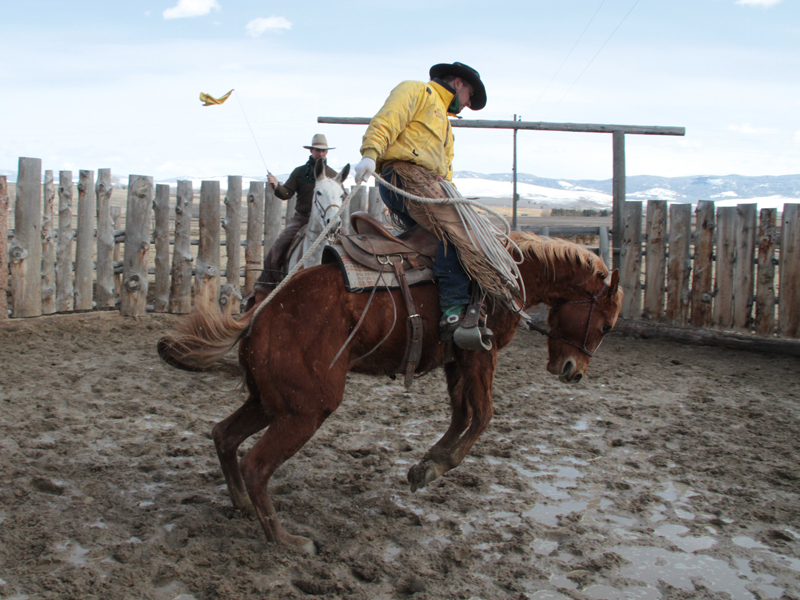 4) One very special ranch, that Jody mentioned, which I'm sure, would be of interest to many people is The Sugar & Spice Ranch. It is an exclusive destination for mothers and daughters looking for the perfect learning and bonding vacation. Located in the 'Cowboy Capital of the World' - Bandera, Texas - it offers guests a chance to experience the rich traditions of the Old West, with an abundant amount of diverse wildlife awaiting throughout the land. Sugar and Spice is tucked up on the hill 15 minutes outside of town, and with the Texas heat you are grateful for a fantastic outdoor pool. It is an hour from San Antonio where the Professional Bull Riders is live every Saturday night at the Cowboy dance hall. It includes a full night of bull riding, dancing and live music. Closer by in the town of Bandera you clan pick up some great vintage cowboy boots at the brilliant vintage market warehouse or visit one of the saddle makers to have a pair of chaps handmade and fitted. The bars can get rowdy and fun at night. There are also local ranch rodeos through the summer on the weekend, a low-key rodeo where you can take your own cooler and sit on the back of the truck to watch the show.
As Jody says, "There is so much diversity in each ranch that I could make a book off of each one! From food, to the personalities at each to the distinct feel at each that can only be explained once you feel it for yourself. Even those that are luxury - they each are so different in that they all have such a different feel! The people who run and own each ranch set the tone for your experience. I just can't highlight enough about the diversity in each stay - so much more than the working ranch, dude ranch, and luxury ranch that is the general classification!"
If all of this talk about a vacation has you interested in finding out more about just the right ranch for you and your family, contact Jody by email or call her at 406-749-9131. If you the opportunity to visit one of these wonderful ranches, let us know! We cannot wait to hear about your experience! And don't forget to take lots of good pictures. I'm sure you will enjoy reliving the memory!
The Foodies Ranch
Triple Creek Ranch, Montana - Guests can choose menu, request fine wine on-hand, un-usual feast of fresh foods, fine wines and global influences. With offerings ranging from traditional French dishes to innovative Southwestern, West Indies, Central American and other international blending, dining at the ranch is a superb experience.
Zapata Ranch, Colorado - Eat Zapata's ranch-grown buffalo and beef direct from their herd - their award winning chef, Mike Rosenberg, was also personal chef for the Carnegie family and catered JFK Jr's wedding; he prepares truly unforgettable culinary experiences for your palette.
Latigo Ranch, Colorado - Some of the best food you'll ever taste will come from this family where owners Randy and Lisa George prepare hearty, healthy and delicious meals themselves. Feel like part of the family as you feast on All-American dishes around the family dining table - steak fry, sweet potato muffins and peanut butter pie - or enjoy more adventurous pairings such as swordfish with watermelon!
Best Wine Tasting Vacations
Red Horse Mountain Ranch, Idaho - During your week at Red Horse, you'll explore over 30 regional wines, be delighted with chef-prepared meals, and enjoy a wide range of guided adventures including horseback riding, sporting clays, kayaking, boat tours, and more.
Estancia Los Potreros, Argentina - Sample the resort's own label-wine, which uses traditional Argentine Malbec and Torrentes grapes, and be advised of the best varieties to pair with the local Argentine dishes gracing this ranch's extensive menu - which also features a full range of vegetarian options sumptuous enough to tempt even the most ardent meat eaters.
Alisal Ranch and Resort, California - Visit this 10,000-acre private working ranch right in the heart of Santa Barbara, California. Set in the middle of wine country, you will experience the finest in Californian wine and the gorgeous beauty of this resort.
Vista Verde, Colorado - Continue your wine journey north to Colorado during one of Vista Verde's wine tasting weeks - where this ranch offers a plethora of wine-tasting vacations. Pair your wine with any one of the restaurant's delicious dishes, which take influence from Western and South American, Italian and regional Mexican cuisine.
The Best Girls' Getaways
Red Horse Mountain Ranch, Idaho - Relax in one of Idaho's best and more luxurious ranches. Whether it's mother-daughter time, a sisters' get-together, or just friends catching up, Girlfriend Getaway Weeks at Red Horse Mountain Ranch is the best vacation to ensure that everyone will enjoy her selves; wine tastings, 7 course meals.
Rancho Los Banos, Mexico - Enjoy the majesty and tranquility of the ranch with their 'Ladies Special', for two or more ladies, for four or more nights, at a discounted rate of $115/night/person; ideal for backcountry horseback riding - pristine and unspoiled. The diversity in this land and plant life makes it an exotic ranch vacation.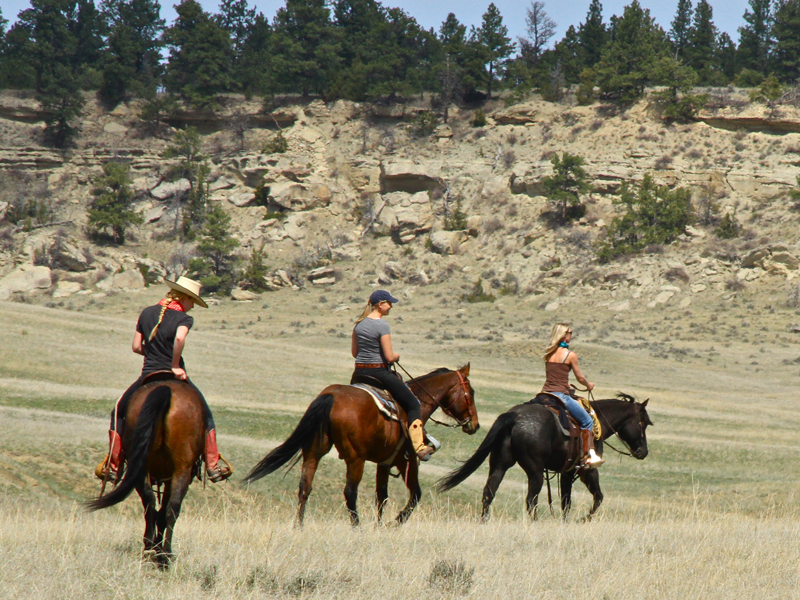 Best Multigenerational Family Ranches
Ideal for that family who wants to come, but has diversified interests and abilities for their holiday.
Flathead Lake Lodge, Montana – Sits on the largest freshwater lake this side of the Mississippi. They offer horseback riding, Glacier National Park tours, and plenty of water sports. The older generations spend most of their time on Doug Averill's several yachts - and can even take a yacht trip into the local town for shopping and a taste of the local flavor and yacht to nearby art galleries.
Three Bars, Canada - Adventure ranch of the Canadian Rockies - ATV rides, sporting clays, white water rafting, trail rides thru the Crown Wilderness, fishing, and in-door pool.
Majestic Dude Ranch, Colorado - Voted Top-10 mountain biking trails in the US, each family gets their own personal horse and their own personal bike upon arrival, cowboy poetry, white water rafting, outdoor movie theatre, full baseball field
Mother/Daughter's Only Please
The only ranch out there that specializes in Mother/Daughter bonding.
Sugar and Spice, Texas - Sits in the Cowboy Capital of the world in Bandera, Texas. From horse care, grooming, etc. Mothers and daughters bond through working together with horses. Mothers are also pampered through pedicures, massage, etc. Children learn responsibility of caring for an animal.
Most Unique Spa
Authentic Outdoor Tent Setting
C Lazy U, Colorado - Authentic tent setting of year-round canvas tents overlooking a beautiful creek, glass-bottom floors, wood from the ranch, green construction with in-floor hydronic radiant heating - massages, facials, manicures/pedicures, and their signature "Cowboy Soak" - a relaxing moonlit soak in old-fashioned deep copper tubs overlooking the creek - complete with champagne and strawberries.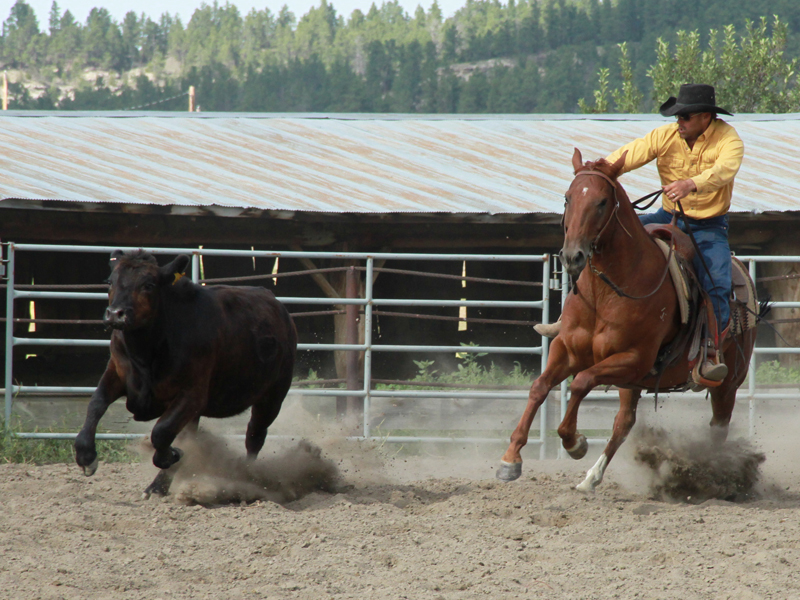 Most Extreme Adventure
For the adventurous at heart
Estancia Ranquilco, Argentina - Overnight pack trips into the Argentine wilderness - unparalleled remoteness - ride 3 hours by horse just to get to the estancia - true wilderness experience in the heart of Patagonia, ride, camp, swim, discover. Hidden lakes, hot springs, Plateaus and volcanoes are your backdrop. Traverse ridges, streams and valleys and the only people you'll see is the occasional gaucho tending his herd. Sleep among the stars and be inspired by your guide T.A's stories of the wilderness.
The Hideout, Wyoming - Ride with the Mustangs - (or go on a photo safari and take pictures in a 4x4 with very diversified scenery. Last week at The Hideout, close to 50 wild horses came to circle the guests while herding cows. They have several mustangs in the string and Ramon (trainer) has the mustangs at the ranch that he trained for the Extreme Mustang Makeover and the Supreme Extreme Mustang Makeover in Fort Worth Texas. They offer a 'Mustang Package' with even riding the Mustangs in their string.
Zapata Ranch, Colorado - Ride with the Buffalo - a highlight dangerous sport - these animals are agile, fast and are very temperamental - only for the experienced riders. This is a pure adrenaline rush and is only open to the very select public.
Best Birding Ranch
Ideal for those birders out there
Chico Basin, Colorado - 87,000 acre working cattle ranch - owned by the Nature Conservancy - some of the best birding in the state with over 320 birds.
Most Authentic Working Ranch
Get your hands dirty - Work alongside the ranchers and cowboys, spend 8 plus hours in the saddle, fix fence, and learn about sustainability and holistic diversification to maintain a real working ranch.
Chico Basin Ranch, Colorado and Rowse's 1Plus1, Nebraska - true authenticity - purpose driven riding, learn to saddle; Get your hands dirty, pitch in on a real ranch - learn how it's done and apply it - they're not babysitting you (some ranches advertise these things, but then you get there and you can't actually do it (on some "working ranches" - you more watch the wranglers do it-here you can do it) - sorting, cutting, pasture gathers, real working cowboys and ranchers - ranching first ranch - true submersion into their culture and way of life with real ranch work - fixing fences, etc. This is the real deal. No nose-to-tail riding. You ride real, true working ranch horses.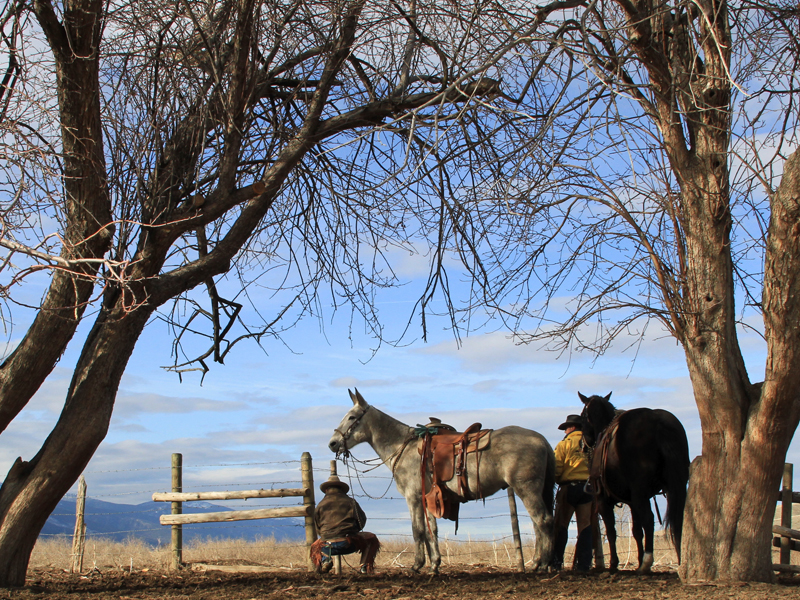 Best Backcountry Riding
Riding in untouched, unspoiled wilderness; pristine
Los Banos Ranch, Mexico - pristine and unspoiled. The diversity in this land and plant life makes it an exotic ranch vacation; The ranch is a wilderness area that, located in the US or Canada, would be considered a national park, with comparisons to Zion, Bryce Canyon, Big Bend and Kenya/Tanzania; embrace Mexican culture; actual working ranch - ride with the Vacqueros; privacy, tranquility, do exactly as you please
Beaumont High Country Station, New Zealand - untamed, natural landscape on an expansive 18,000-acre; high-country farming adventure; working sheep and cattle stations; ride to historic Flecks Hut; native beech forests; towering beech trees, muster sheep with the natives.
Most Luxurious Ranch Resorts
Detail oriented, high end
Echo Valley Ranch, Canada - Multi-activity ranch - an iconic Canadian ranch experience but with Asian elements and an award-winning BaanThai and European-style spa; member of Small Luxury Hotels of the world; yoga, golf, wagon rides, ATV rentals, bird watching, fishing, falconing, indoor pool, white water rafting, winter activities, business services
The Ranch at Rock Creek, Montana - Saloon, indoor bowling alley, high-end spa, movie theatre, working ranch and luxury dude ranch; renowned comprehensive children's program with arts and crafts and outdoor activities, concierge on staff; golf, sporting clays, wagon and sleigh rides, outdoor pool, river floating, winter sports; Andrew Harper recommended resort.
Triple Creek Ranch, Montana - for ages 16 and over only; #1 Ranked resort high in the Bitterroot Mountain Range of the Montana Rockies. A member of the prestigious Relais & Châteaux, Triple Creek Ranch offers rustic elegance in a mountain retreat featuring private log cabins and a comfortable lodge. Fishing, Scenic River floating, driving cattle to greener pasture, white water rafting, guided all-terrain vehicle tours or Alpine and Nordic skiing.
Most Romantic Ranch
Triple Creek Ranch, Montana - A couple's haven - Rated #1 for Romance with luxury accommodations, champagne, chocolates on arrival, candlelit dinners, moonlight strolls and a private cabin; heli-hiking, Selway Wilderness Ride (ride where no man can go - must be privately flown in to your horse on a high mountain range), food tastings, photography weekends, cooking weekends and more
Do Something Out of the Ordinary - Learn to Play Polo
Los Potreros, Argentina - Learn to Play Polo! - Exquisite first class hospitality. Highest quality argentine crillo and 5 gaited paso horses. Become a Polo fanatic with personal one to one tuition from the top polo trainer including Humi Pizzaro - you don't just sit on the side and watch, you dive in and actually PLAY-what all guests are surprised about. Home reared and grown produce with True Argentine wine tasting experience.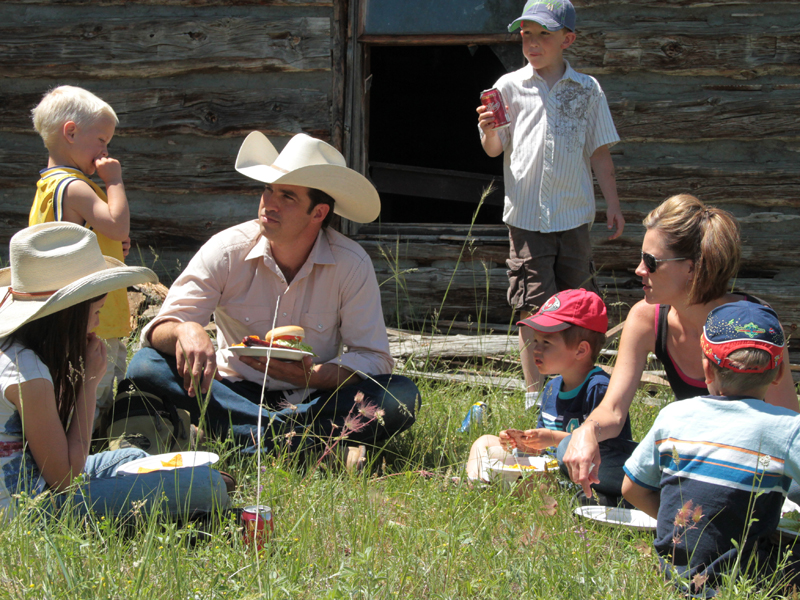 Most Green - Ecofriendly Ranches
Triple Creek Ranch, MT - luxury ranch resort for 16+ A member of "Clean the World". Homegrown fruits, vegetables and herbs. Beef is grass fed. Planted 90,000 Ponderosa Pine plans to plant an additional 20,000 in 2011. Pasture rotation, stream bank restoration and streambed rehabilitation. It's a conservation district to protect the wildlife inhabiting the area. Triple creek is a contributor to wildlife research, the Owl Research Institute, Montana Peregrine Institute, Raptors of the Rockies, Wind River Bear Institute, and the Rocky Mountain Elk Foundation. Catch- and-release fishing, tours include eco-nature, orchard and garden tours. Bird and flower identification walks.
Huechahue, Argentina - Green/Ecofriendly/completely self sustainable 15,000-acre cattle ranch in Patagonian remains almost entirely self-sufficient. Water is from natural springs that generate electricity. Trees provide firewood for heating and hot water and make us carbon neutral. All meat is home reared Hereford cattle, no fertilizers or pesticides, pigs who eat all the organic waste, extensive fruit and nut orchards and a large organic vegetable garden.
Best Ranch for Singles
Majestic Dude Ranch, Colorado - Offers a singles only week where single want to-be cowboys and cowgirls can enjoy outdoor adventures, the best mountain biking trails in the country, an outdoor movie theatre carefully constructed under the stars, and enjoy the company of like-minded singles!
Most Authentic Offering - Insect Days in Mexico
Rancho Los Banos, Mexico - The end of our wet summer presents the arrival of Insect Days at the rancho. For fans of these little critters, this time of year is an ideal time to see hundreds, if not thousands, of diverse insects enjoying the after-effects of our monsoon season, with a land covered in vegetation, looking more like Costa Rica than the Sonoran desert. Hiking our ranch, you will see a full spectrum of insect life, as diverse and as beautiful as anywhere. Whether in canyons, in river-beds, hills, or our high-country, our complete collection of critters, flying, crawling or other, will show you how alive the desert truly is.
Best Horsemanship Clinic with Renowned Trainer
McGinnis Meadows, Montana - For a once in a lifetime experience, sign up for a weeklong 'Horsemanship and Cattle Working Clinic' personally taught by Buck Brannaman at McGinnis. McGinnis was featured in the movie. Buck is a documentary on Buck Brannaman, the real 'horse whisperer' where his empathy and ability to work with equines has made him famous all over the world.
General during your stay at McGinnis: Hands on horsemanship. Learn to work cattle: tracking, sorting, cutting, penning, driving, pushing, and reriding for strays. Handcrafted saddles. One to one training and attention to detail. Luxury working ranch.
Guilt-Free Food - Most Ethical Menu
Free Rein, British Columbia, Canada - an ethical menu created around locally sourced produce! Advocates of the "100 miles" diet, this ranch buys their produce from local suppliers within a 100-mile radius - fresh, healthy and delicious food as clear on the palate as it is on the conscience.
Most Guilty Culinary Pleasure
The Hideout Ranch, Wyoming - For a culinary experience less easy on the conscience (and the waistline), this ranch offers the ultimate in guilty pleasures with chocolate clinics held by visiting Belgian artisan chocolate-makers. Taste some of the finest chocolate in the world, then learn how to use it as an ingredient in some of the most unusual yet savory recipes.
2 Life changing Top50 Stories from Jody
Kate Matheson, formerly editor of Glamour magazine in the UK, had a life-changing vacation to Runamuk (my guest ranch) five years ago. She enjoyed her stay so much that she quit her job at Glamour and began working for Runamuk. She now works for Top50!
Mel Rutherford visited us two years ago at Runamuk, former editor of Horse and Rider magazine in the U.K. and now she works for Top50!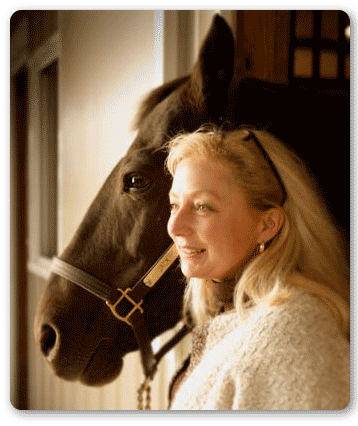 Debbie has over 45 years experience with horses and equine-related businesses. She has owned, trained, boarded horses and run stables at various times in her career. She is a certified fence installer, has given balanced riding lessons, and has shown horses in Western, Western Pleasure, Trail, English, Hunter/Jumper, Fox Hunting, Hunter Trials, Dressage and driving classes. Debbie has been involved in foaling, and just about every aspect of horse ownership possible, and she welcomes your questions and comments. If you are interested in using any articles by Debbie, please send her an email.


RAMM Fence Systems, Inc. makes every effort to provide reliable and useful information on horse health, care and products. The statements made on this website are based on years of experience with horses, however, they are based on generalized situations and should not replace diagnosis or treatment by a veterinarian or consultation by a professional. RAMM Fence Systems, Inc. does not assume any legal responsibility. Readers should always consult qualified health care providers for specific diagnosis and treatment.