Frequently Asked Questions​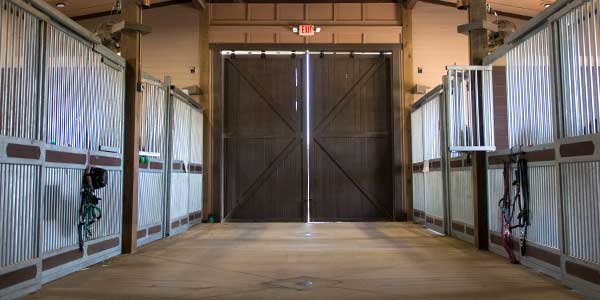 Welcome to the RAMM Fenc​e & Stalls frequently asked questions page. If we hear the question once, most likely others will have the same question again, so below is a list of popular questions we've compiled to for you to use as a resource. Our FAQs page ​should provide the help needed for you to resolve any problems you may come across; from hundreds of customer's projects, thoughts and ideas, our answers will quickly give you the information you need.
​
Below are some business questions regarding RAMM:
Can I Pickup My Order at RAMM?

Absolutely! We always love ​​having customers stop by. Most products are stocked here, but some are not. If you're planning to visit and leave with purchased products, we advise you to call in beforehand to ensure everything's in stock.

We are located at 13150 Airport Hwy., Swanton, Ohio 43558




Warehouse/Order Pick-up Hours

Monday-Friday: 9:00am - 5:00pm (Eastern Time)

Saturday: 9:00am - 12:00pm (Eastern Time)





Are There RAMM Retailers or Distributers Local to Me?

RAMM is family owned-and-operated ​at our one location:

13150 Airport Hwy.
Swanton, Ohio 43558

If you have questions regarding shipping, we welcome you to reach out to us and we can figure out the most economical delivery method.

What Payments Are Accepted?

We accept Visa, MasterCard, Discover, PayPal, wire transfer, ACH transfer, and personal checks. Personal checks should be made payable to: Ramm Fence Systems, Inc.

*All orders must be

paid in full

prior to shipment.
*Consider​ ​linking your PayPal account to ​pay using a savings account or an American Express card [we do not ​accept​ AMEX].

Is There a Minimum Order Quantity for RAMM Products?

No; you can purchase as much or as little as you want. Whether you want a fully decked out horse farm or just a replacement piece, RAMM's your one-stop shop!




How Do I Receive My FREE Catalog or Product Sample?

You can receive your FREE catalog by filling out your shipping information here: https://www.rammfence.com/contact-us/request-catalog/

If you would like to receive a sample of a specific product(s), please idicate what you'd like in the comments section of the form [optional].

Does RAMM Have People Who Do Installations?

RAMM does not employ fence installers or barn contractors. However, over the years, we have developed relationships with people we can help you get in touch with.

If you'd like help with installing RAMM products or if you'd like to know what accessories you'll need to complete an installation, we welcome you to call in and speak with a friendly RAMM ​account manager at 800-434-8456.




Does RAMM Build Barns?

Although RAMM has many different

horse stalls

and products for your

barn

, we do not have contractors or builders to assemble the barn itself.



Don't see your question?
Email Debbie and we will get your question posted with numerous other horse owners that have taken advantage of this valuable resource.
Don't see your question? You can reach out to us by either talking to us on our visitor chat or ​email us a ramm@rammfence.com. We ​post new unanswered questions here ​so numerous other horse owners ​can take advantage of this valuable resource!