Extreme Farm Makeover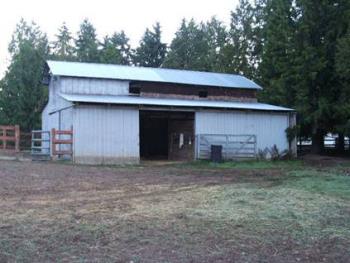 Satisfied and happy customers are what we like to hear at RAMM. Kathleen T. of Thunder Ranch and Training Center (Graham, WA) took the time to send us her 'story' of how an old farm can be transformed into a working boarding facility using RAMM fence and stalls! We want to thank Kathleen for sending us her 'before and after' pictures and in her own words, tells how she did an Extreme Farm Makeover! Thank you Kathleen! Keep us posted on any more updates that you make!
Pictured to the right is the original white barn that was already here when we purchased the land.
It's has been a long journey... Eight years ago this coming June we bought a 5 acre ranch with a wreck of a barn that our three horses, at the time, didn't even want to be left in because it was so icky and spooky. That first day we moved to our little ranch and I put my horse in one of the stalls and she had a fit, nearly kicking down the rickety stall walls, I knew right then and there what our first project was going to be.
So began our journey... We gutted the barn with its nailed shut big front barn door. The stall walls were only about 42" high and made of landscape fencing boards. The inside of the exterior walls had horizontally hung 4' X 8' sheets of plywood with no cap on top so when the wood was removed we found previous owner's horses (backing their rear ends to the wall) had filled the area between the studs with manure. Ewwww...
We dug out all the old footing, tore down the very shaky hay loft made of 2' X 6" X 12' boards (on 2" X 6" headers), made repairs to vertical posts that had rotted below ground, and ran all new electrical. Then we started building the stalls with the floor framing of 2" X 10" treated wood, sunk into the ground and leveled, with a 2" X 4" cap in a T configuration and backfilled each stall with DG. It took three months to get the barn prepped in our spare time after work and on weekends. In the meantime I was shopping for some kind of hardware, plans or kits to create the stall walls. During my search I found the RAMM Fence Company. The stall kits were well within our budget and I was thrilled to find I could modify the partition walls as Veronica, a RAMM Sales Representative, suggested with a grill window on the partition walls so the horses could see each other.
The stall kits arrived and our journey continued... We saved money using the 2" X 6" boards from the hayloft to build the first three stall walls on the west side of the barn and only had to buy a few treated boards for the base of each wall and door. We also framed in doors off the back of each stall for the horses to be able to go out if they wanted. The stall walls and doors were easy to assemble and looked beautiful when completed and just in time for winter.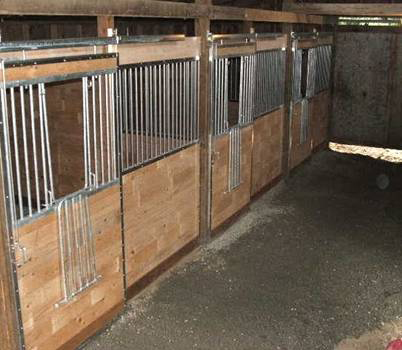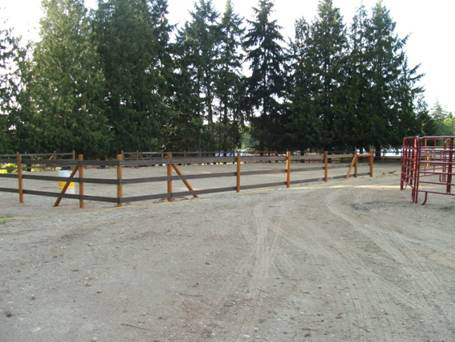 Pictured above are the new RAMM Standard Stalls in the old remodeled barn. Next to that is the Ramm 3 rail brown flex fencing riding arena.
In the spring of 2005 our journey took a turn... It didn't take long for us to find out that our horses are part beaver. I think Indians never dugout canoes... they just tied a horse next to a log. The fencing of the two pastures was not in very good shape when we moved it but it became worse within months and we had to do something since our quick fixes were also failing. I called RAMM Fence again for assistance.
After receiving samples of the Flex Fencing and Electric Braid we decided to go with the Flex. I originally wanted to go with white fencing but the practical thinking side of my brain took over. With all the rain and gray skies we have is this area the moss, mold and green slim grows on about anything so not wanting my fences looking dingy like so many white board fences I went with the brown 5 ½" fence. But first we had to do some planning and a tad of prep work.
In the beginning, from the house, you'd had to walk up a slight slop and then back down to the barn. We took care of the issue of water pooling up in front of and in the barn along with the back of the house by taking off the top of the hill we live on. Having the dirt work done has been the only time we have actually hired someone to come in and do any work. My husband and I installed all the Flex Fencing on the east side of the barn over one weekend (once the posts were in). Now we were able to play musical horses with our original three and an additional two ponies. We're up to five. We added hot tape on top and bottom to avoid damage to the fence and gates because some behemoth horses know they are tall enough to reach the other side and strong enough not to care what's in their way. Originally we used white hot tape from the feed store but have since changed it out with the brown tape from RAMM which is more heavy duty for about the same price.
Our journey went west... Now it was time to tackle the west side of the barn where we wanted an 80' X 140' arena. Our journey into business and back to the barn... In 2006 we decided to start a horse boarding and training facility so we had to finish up the other stalls in the barn to make room for boarders. The journey continues to this day as we have so many projects still to complete and many more fences to run. Our little Thunder Ranch and Training Center has come a long way from right before we moved in... until today.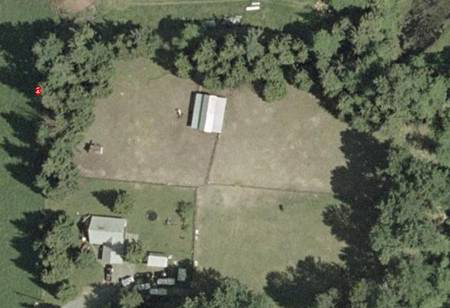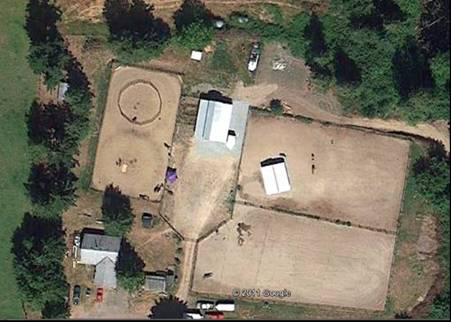 Thunder Ranch and Training Center - Kathleen T. from Graham, WA